Update
Planned project schedule:
Tree clearing starts early (mid-December) and must be completed by March 31, 2022. You will see this work during winter. It's done in advance of construction to ensure it's completed prior to the nesting of certain species of bats.
Stage 1 will replace culverts west of Wabasha County Road 3. The detour cannot begin until spring weight restrictions are removed in southeast Minnesota, but a start date of May 2, 2022 is likely.

Stage 1 detour is limited to 45 consecutive calendar days (about 7 weeks).
Zumbro Falls reconstruction will be the east two-thirds of Zumbro Falls, and the bridge just west of Zumbro Falls will also be under construction. They will begin with the stage 1 detour but do not need to be completed by the conclusion of the stage 1 detour.

Stage 2 detour must begin immediately after the stage 1 detour ends.

Stage 2 will include pipe replacements between Wabasha County Road 3 and Zumbro Falls, completing all the Zumbro Falls reconstruction and completing the span bridge west of Zumbro Falls.
Stage 2 detour is limited to 45 consecutive calendar days (about 7 weeks).

Zumbro Falls reconstruction on the east two-thirds must be completed by July 14.
Hwy 60 will be open from July 15 to July 17 in Zumbro Falls and anything that would affect traffic on Hwy 60 will be halted during this short period.
Reconstruction in Zumbro Falls will be limited to north or south sidewalks at a time so there is space to remain passable. Hwy 60 will not be restricted because sanitary sewer replacement work is right down the middle of Hwy 60. The contractor will need to stage the roadway work to allow for temporary pedestrian access.
About the project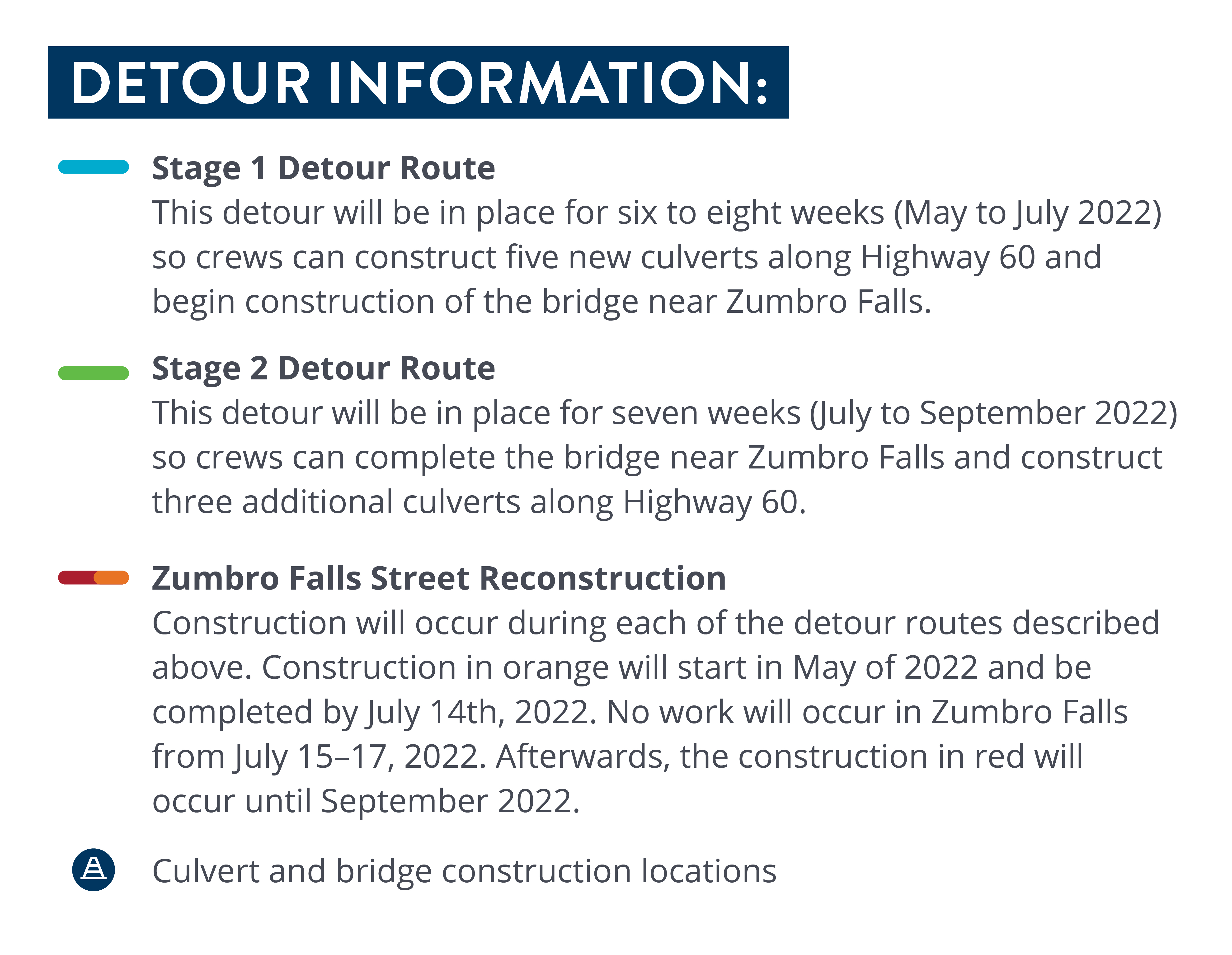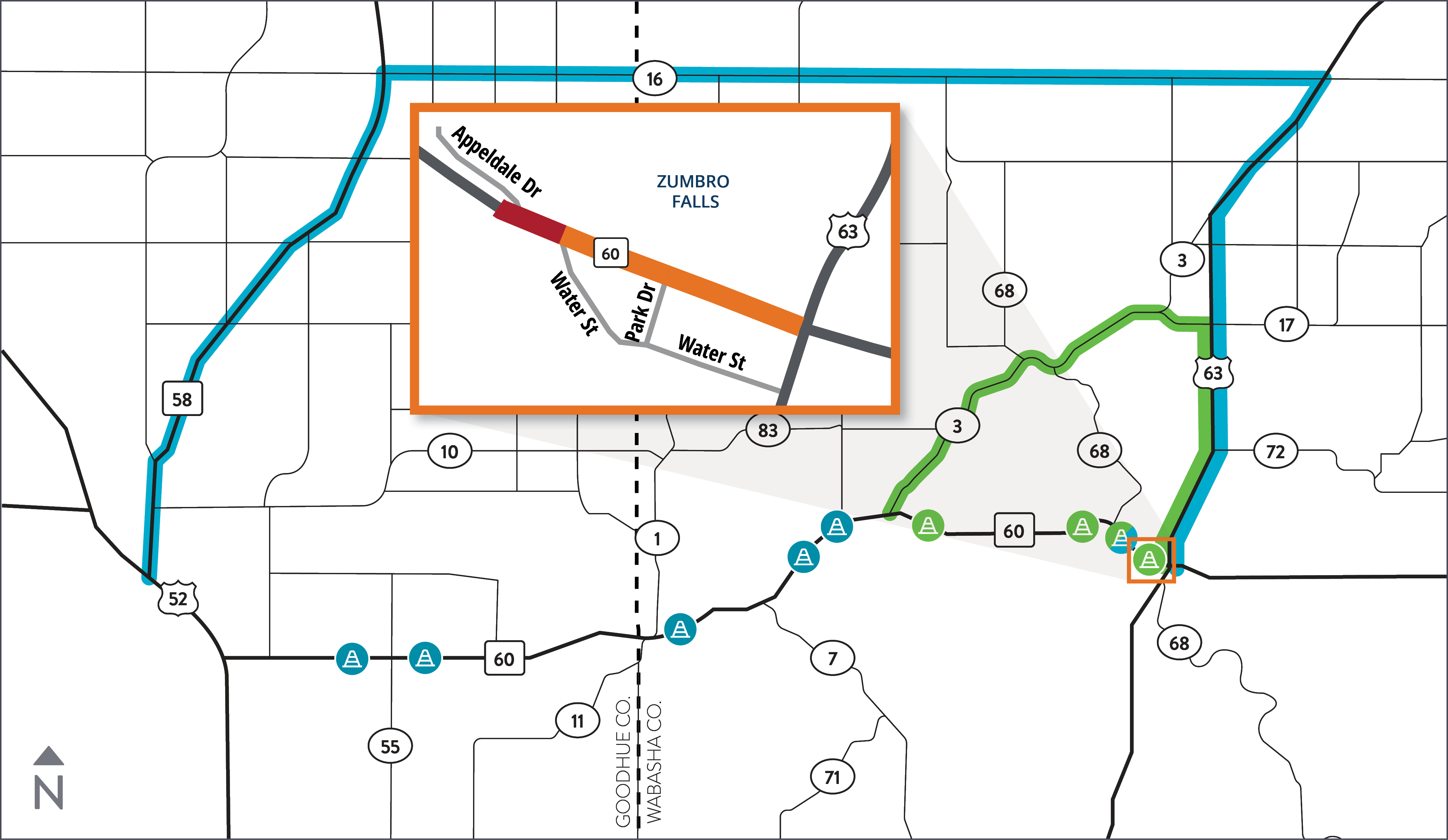 Summary of work
In 2022, MnDOT will resurface Hwy 60 between Hwy 63 and Hwy 52, including the communities of Zumbro Falls and Mazeppa. Seven culvert replacements are planned along the 14-mile route along with a bridge replacement west of Zumbro Falls. ADA improvements are planned in Zumbro Falls and Mazeppa. In Zumbro Falls, reconstruction of the road is planned.
Improvements:
Replace/repair 7 culverts and pipes
New bridge west of Zumbro Falls
Road reconstruction in Zumbro Falls
Sidewalk reconstruction (ADA improvements) to improve access in Mazeppa and Zumbro Falls
Update lighting at key intersections
Replace road signs
Replace guardrail
Anticipated project schedule:
Begin preliminary design: Summer 2019
Community engagement: Fall 2019 - Winter 2019/20
Complete preliminary design: Winter 2019/2020 - Spring 2020
Community engagement: Summer 2020 - Fall 202
Begin final design: Fall 2020
Community engagement: Winter 2020/21 - Spring 2021
Complete final design: Summer 2021
Begin construction: Spring 2022