Sign up for project email updates
About this project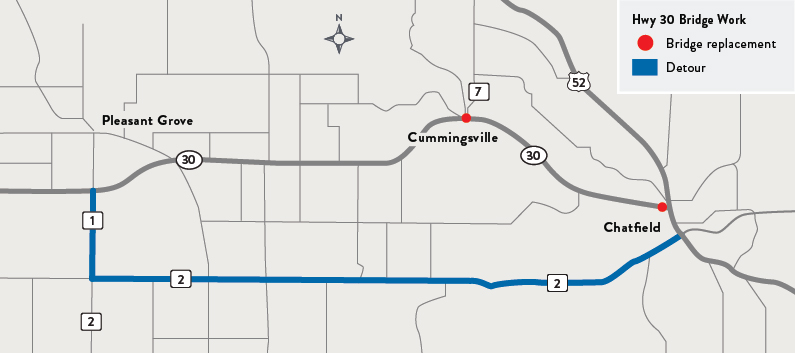 Update
The Federal Highway Administration (FHWA) has indicated a preliminary finding that the proposed bridge replacement project on Hwy 30 in 2023 would have minimal impact on the environment at Mill Creek. However, it will consider public comments prior to its final determination on environmental impact.
This comment period closes April 5, 2022. If you have comments, please send them to MnDOT project manager Jake Gasper. All comments made during the comment period will be reviewed and considered.
Request for FHWA de Minimis Determination for Mill Creek AMA
De Minimis Legal Notice
Summary of work
Two Hwy 30 bridges will be replaced in 2023:
At Mill Creek in Chatfield

Space under Mill Creek bridge will be prepared for future multi-use trail.
Construction work within Mill Creek will also guard against future erosion under bridge footings.

At North Branch Root River, west of Olmsted Co. Rd. 7, Cummingsville.