About this project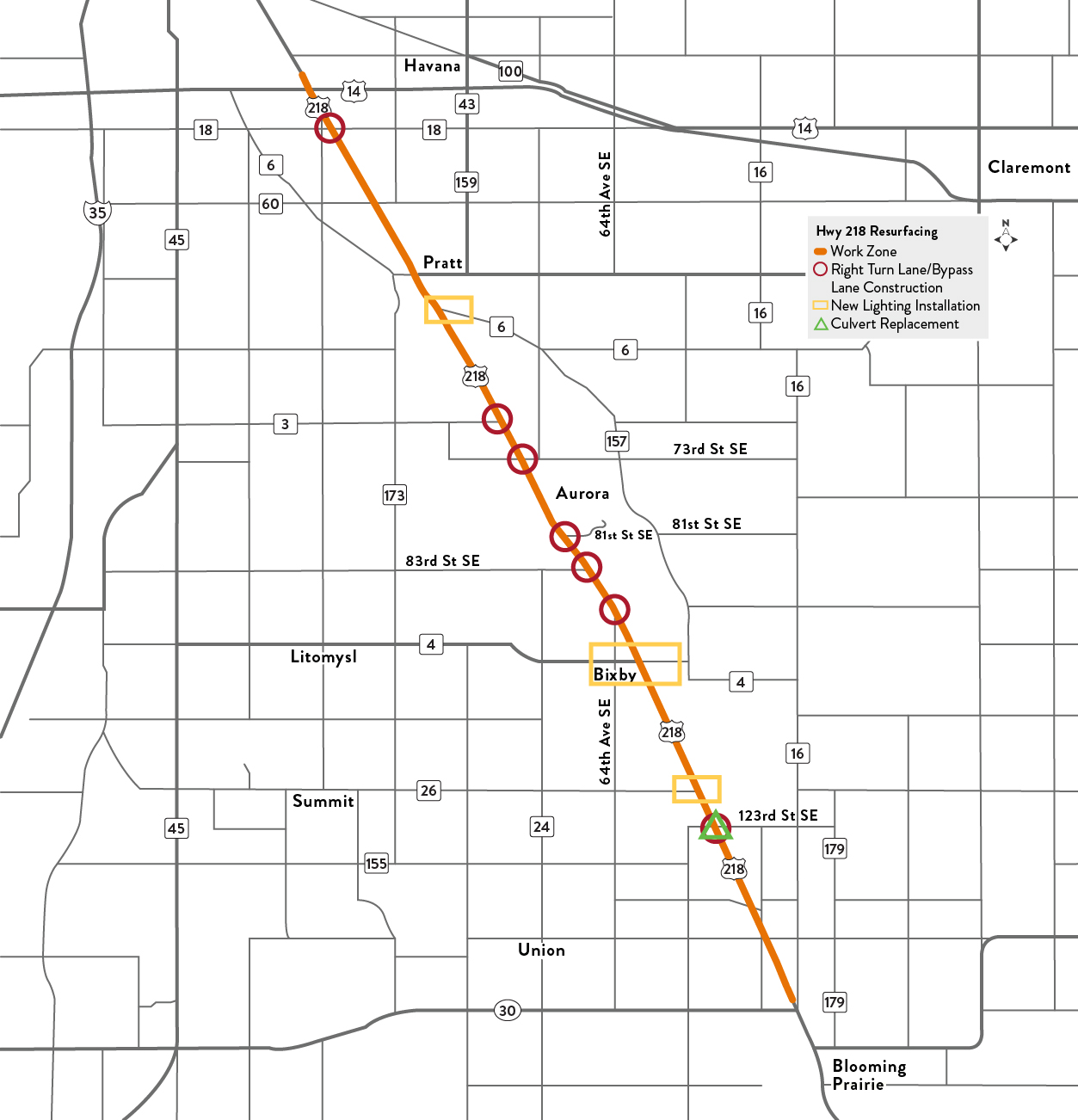 Update
The majority of the work is complete. There are a few things that aren't complete yet because there was a delay in receiving materials:
The new lighting is scheduled to be installed by the end of July at three intersections of Hwy 218: Co. Rd. 26 south of Bixby, Co. Rd. 4 in Bixby and Co. Rd. 6 in Pratt.
A concrete culvert box extension and the right turn lane at 83rd St. SE are anticipated to be completed early September.
Summary of work
Construction began May 1, 2023 and the entire project is scheduled to be complete in September. 
The following work is complete:
Resurfaced approximately 14.3 miles of Hwy 218 from Blooming Prairie (0.15 miles north of Hwy 30) to Owatonna (0.15 miles north of Hwy 14)
Constructed new turn lanes/bypass lanes:

Right turn lane at 123rd St. SE
Bypass lane at 64th Ave. SE
Right turn lane at 81st St. SE
Bypass lane at 81st St. SE
Right turn lane at 73rd St. SE
Bypass lane at Co. Rd. 3
Right turn lane at Co. Rd. 18

Replaced culvert near 123rd St. SE and Hwy 218 intersection
The following work isn't complete yet:
Right turn lane at 83rd St. SE
Installing new lighting at three intersections of Hwy 218: Co. Rd. 26 south of Bixby, Co. Rd. 4 in Bixby and Co. Rd. 6 in Pratt