Project details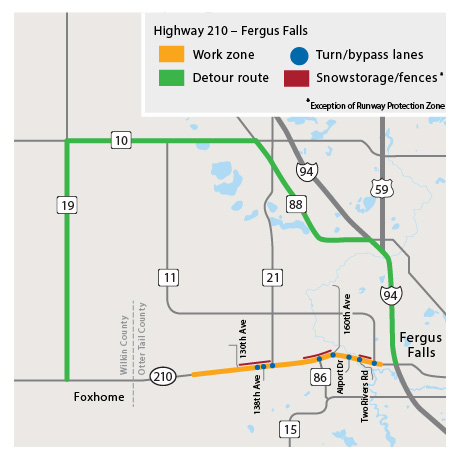 In 2020, the Minnesota Department of Transportation will begin a reconstruction project on Highway 210, west of Interstate 94 near Fergus Falls to east of the Wilkin/Otter Tail County line.
Key project elements
Concrete reconstruction
Widen shoulders for 1-mile on west end of project
Construct turn lanes and bypass lanes

Elevator entrance, 138th Ave, CR 21, CR 86, 160th Ave, Airport Dr, Two Rivers Rd & CR 116

Construct truck inspection lane
Snow fence and ditching
Pave local road entrances (city cost)

Old terminal access, Airport Dr & Two Rivers Rd
Current traffic impacts
Hwy 210 is open to traffic
Drive with caution: crews will continue to finish various work along the highway this fall. Expect shoulder and lane closures and watch for heavy equipment and crews at work.