Project details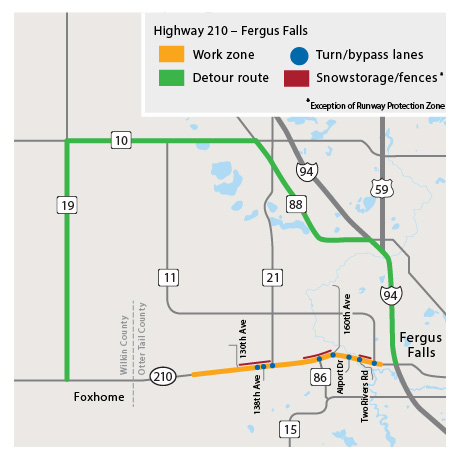 In 2020, the Minnesota Department of Transportation will begin a reconstruction project on Highway 210, west of Interstate 94 near Fergus Falls to east of the Wilkin/Otter Tail County line.
Key project elements
Concrete reconstruction
Widen shoulders for 1-mile on west end of project
Construct turn lanes and bypass lanes

Elevator entrance, 138th Ave, CR 21, CR 86, 160th Ave, Airport Dr, Two Rivers Rd & CR 116

Construct truck inspection lane
Snow fence and ditching
Pave local road entrances (city cost)

Old terminal access, Airport Dr & Two Rivers Rd
Current traffic impacts
Closed to thru-traffic

Detour: County Road 19 N, County Road 16/10, County Road 88, Interstate 94

Local traffic ONLY: this means only those who have a destination within the work zone (home or business) are allowed on the highway.

Concrete paving resumes on July 29, west of Airport Drive to east of the Otter Tail/Wilkin county line. Crews will pave both lanes at the same time, starting west and moving east. Please obey traffic control.
LOCAL TRAFFIC RESTRICTIONS:

Do not attempt to enter the work zone from the west end of the project. Find an alternate route.

As crews move east toward Airport Drive, access to County Road 86 will also be restricted.

Foxhome can be accessed from the west via Highway 210.