View detailed construction progress under the "Updates" tab

Construction impacts
Hwy 29 closed on both sides of Hwy 55 intersection

Hwy 55 remains open throughout construction as part of the detour route.

Detour to/from Glenwood: CR 28, Hwy 55, Hwy 28
Detour to/from Starbuck: CR 28, Hwy 114
Local business access:
Enter from south on Hwy 29 to access:

Glacial Ridge Veterinary Clinic; Rapid Response Plumbing Heating and Air; Meco 7; Pope County Highway Garage; Bobber's Marine & Sports Center; Stoens Hydrostatic Service; and Hilltop Lumber.

Enter from east on 160th Street to access:

Red Horizon Equipment; Koeps Bait

Enter from north off of Hwy 55 to access:
Project details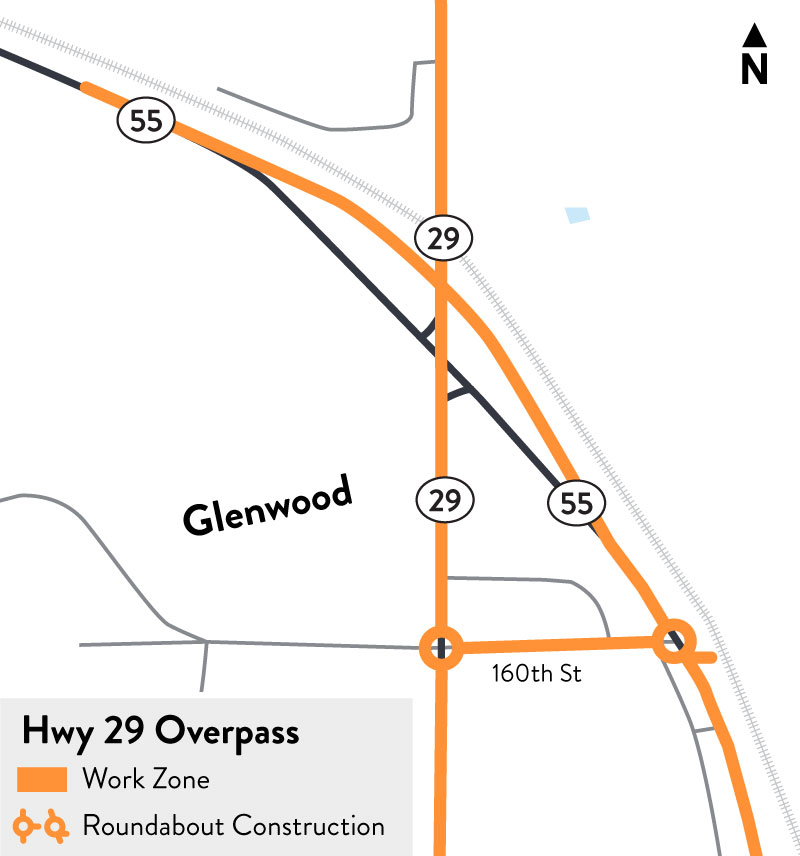 The Minnesota Department of Transportation and Pope County are partnering on a project to build an overpass at the junction of Hwy 29 and Hwy 55. The overpass will eliminate an "at grade" crossing with the CP Railway System.
The project will also eliminate the existing and undesirable skewed intersection of Hwy 29 and Hwy 55, moving the junction south to 160th Street and giving the intersection a perpendicular approach. Two roundabouts will be constructed as part of this project, one on Highway 29 and one on Highway 55 at the intersections with 160th Street. The entire project will take two construction seasons to complete.