Americans with Disabilities Act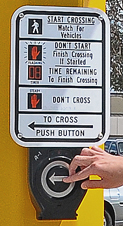 All MnDOT projects - both new construction and rehabilitation projects - must include evaluation to ensure compliance with the Americans with Disabilities Act. Components can include, but are not limited to adding curb cuts, truncated domes and accessible pedestrian signals. Read about MnDOT's transition plan to comply with the ADA.
Specifics for this project
New ADA ramps will be installed along 22nd Avenue West at Michigan St., Superior St, First Street and 21st Avenue W at the T.H. 53 ramps.
An ADA-compliant path will be constructed on the new 27th Avenue West Bridge.