About this project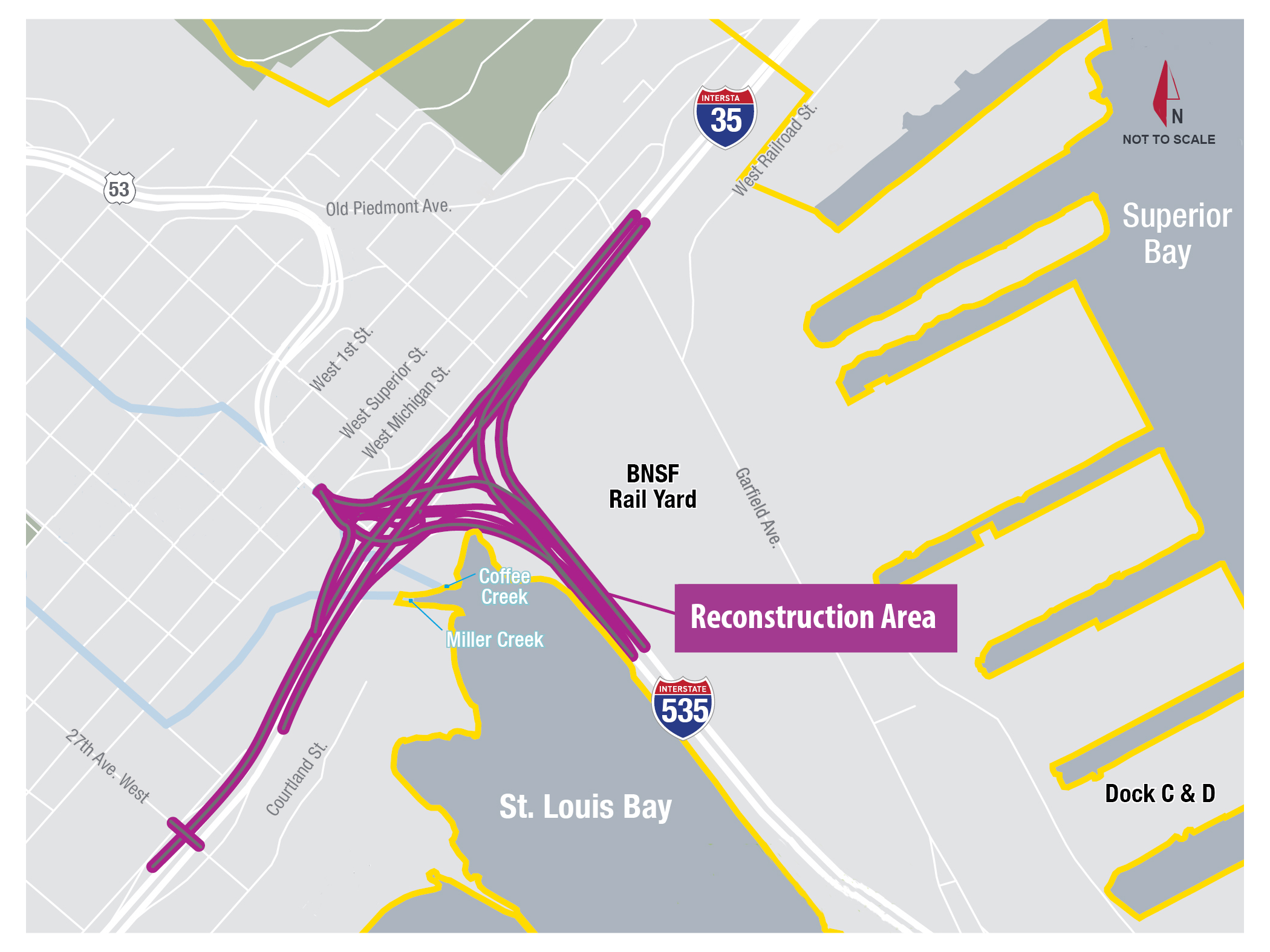 Once completed, this project will enhance safety by eliminating blind merges and left exits, replace aging infrastructure, and better accommodate freight movements through the interchanges next to the Clure Public Terminal.
Due to higher costs than estimated, Component 2 (Highway 53 bridges) and Component 3 (Garfield Avenue/I-535 interchange) are deferred until funding is secured. In November of 2019, it was announced that the project as a whole would be deferred one year. Some construction will begin this fall, but the public will not see significant traffic impacts until the spring of 2021. Next spring, the project will move forward with I-35 traffic in single lane configuration. In the fall, northbound traffic will remain on I-35, and southbound traffic will be moved to Lower Michigan Street as planned.
Summary of work
Reconstruct I-35/I-535/Hwy 53 interchange to improve safety by:
Providing a new conventional design
Relocating all exits and entrances to the right side of the roadway
Improving merging sight distance and eliminating merge conflicts
Eliminating weaving problems near the interchange
Providing lane continuity for through I-35 traffic
Animation video
See what the freeway will look like when completed from a motorist's view heading north on I-35 through the Twin Ports Interchange area, then heading to southbound I-35 from I-535, or the Blatnik Bridge, through the Twin Ports Interchange area.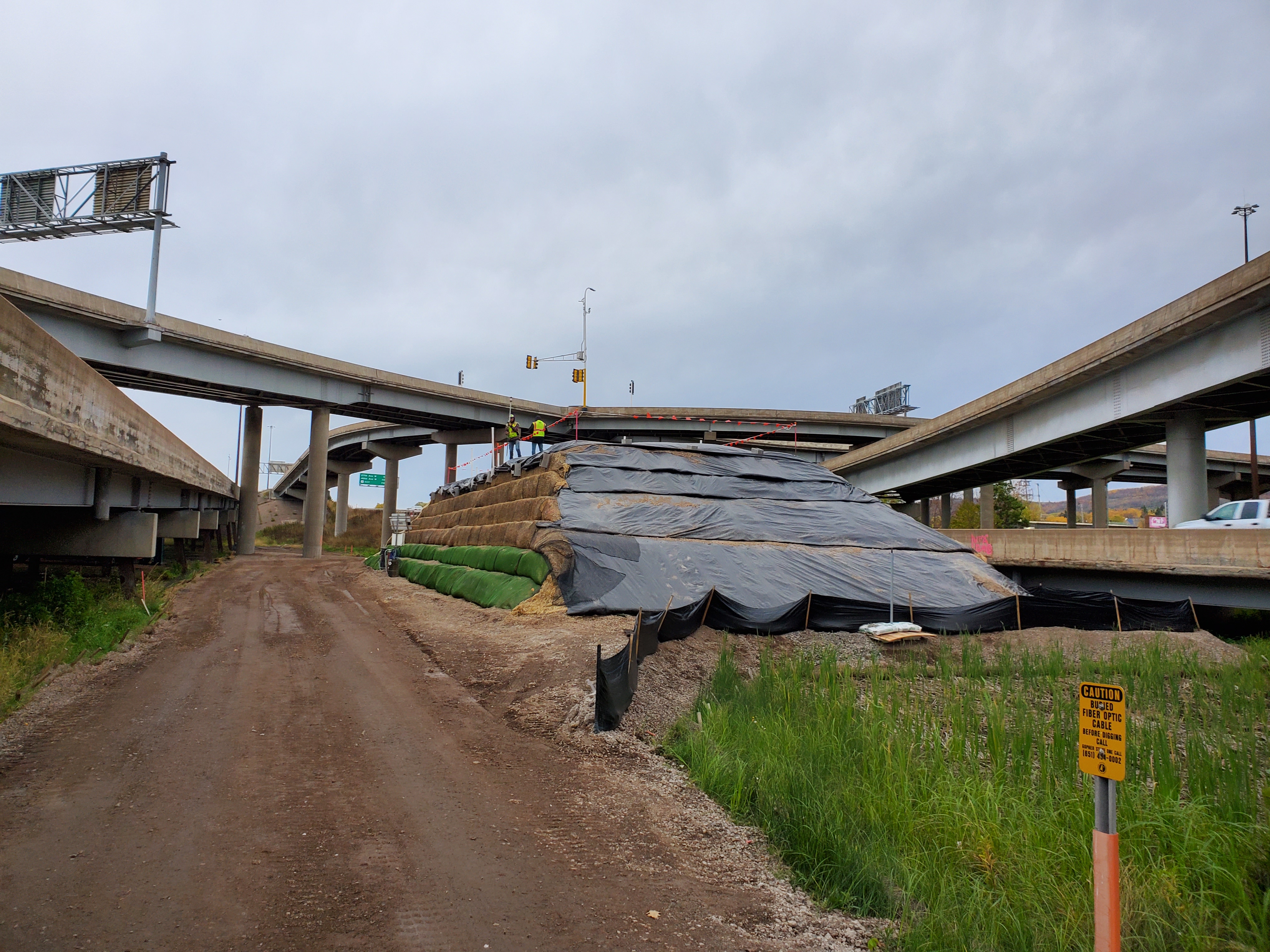 What's that mound between the interstate?
We get that question a lot. Some people ask if it's hay bales. What it is actually is our testing site.
With the Twin Ports Interchange project, MnDOT will remove all low level bridges on I-35 and replace them on an earth fill inside of retaining walls. This is being done because dirt fills are less maintenance and less cost than bridges. What you see is a test "ground improvement" section, and the pipes are instrumentation for monitoring settlement and lateral displacement.
View more photos and read more about the process.
Project update meetings
Freight connection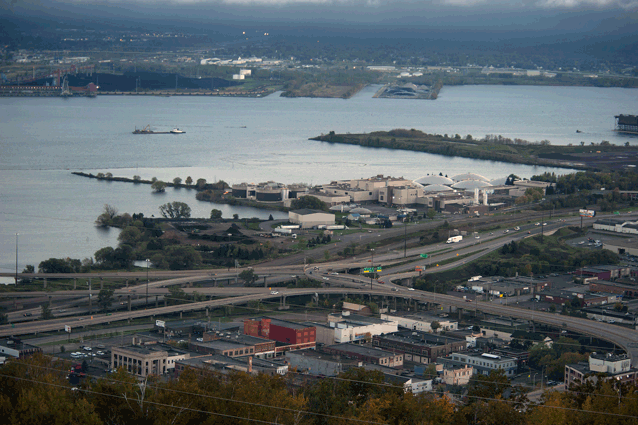 This project will provide direct access for overweight permitted loads.
Interchange traffic count:
Average annual daily traffic – 80,000
Heavy commercial average annual daily traffic – 5,320
Provides first- and last-mile connection to the Clure Public Terminal, an intermodal facility with highway, rail and waterway freight connections