Temporary Highway Maintenance Worker/Snow & Ice Transportation Generalist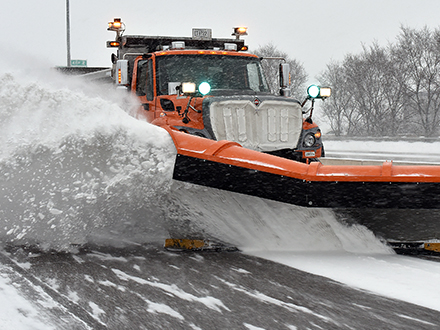 We're hiring temporary and temporary intermittent highway maintenance workers to plow snow and maintain roads within the Twin Cities Metro area.
About the jobs
Starting salary: $23.34-$29.28
Employment condition:

Temporary/full time (40 hours a week)
OR
Intermittent (on-call basis as needed, hours vary)
Additional information will be provided at the time of interview.

Days shift: 7 a.m. to 3:30 p.m., Monday through Friday
Nights shift: 7 p.m. to 5:30 a.m., Monday evening through Friday morning.
Interviews: Schedule for approximately Oct. 25, 2023
Start Date: Wednesday, Dec. 6, 2023
Responsibilities
Drive and operate a variety of heavy equipment to perform snow and ice duties

Maintain roadways for snow and ice control (remove snow from roadways and shoulders
Apply anti-icing and de-icing chemicals on stretches of highway under slippery conditions
Remove ice and materials from culverts
Perform night or dawn patrols
Prepare and inspect snowplow equipment, cutting edges and sanders

Perform landscaping duties on roadside (chip tree limbs, stump removal/ grinding)
Conduct rest area maintenance to wayside rests and scale areas (building and grounds maintenance, vegetation control, and parking surface repairs)
Set up traffic control in high volume traffic and perform work responsibilities associated with accidents, spill cleanup, rut repair, dead deer, etc.
Locations
Temporary
Camden Nights (5)
Cedar Nights (Richfield, 3)
Eden Prairie Nights (3)
Maryland Nights (St. Paul, 5)
Mendota Nights (4)
Temporary intermittent
Camden Days (Minneapolis, 3)
Camden Nights (1)
Golden Valley (3)
Golden Valley Traffic Services (2)
Maryland Nights (St. Paul, 1)
Mendota Days (2)
Mendota Nights (1)
Oakdale Traffic Services (2)
Plymouth (3)
Spring Lake Park (2)
The days of work, shift, normal and holiday work hours will vary depending on the requirements of each individual truck station (i.e., day shift, night shift, holidays, and weekends). Hours will include overtime or various shifts depending on emergency situations and seasonal assignments. Incumbents must have immediate access to a phone and be able to report to work within one hour of being called.
Shift differential
The shift differential for employees working on assigned shifts which begin before 6 a.m. or which end at or after 6 p.m. shall be $2.25 per hour for all hours worked before 6 a.m. or after 6 p.m. on that shift. Such shift differential shall be in addition to the employee's regular rate of pay and shall be included in all payroll calculations but shall not apply during periods of paid leave. An employee who requests and is approved by their supervisor to work before 6 a.m. or after 6 p.m., shall not be eligible for the shift differential.
Night maintenance premium pay
Maintenance employees working night shifts of durations lasting three months or more, covered by this agreement, shall receive night premium pay of $2 per hour for all shifts which start between 7 p.m. and 11 p.m. This will apply to all hours worked between the hours of 7 p.m. and 5:30 a.m. Such premium pay shall be in addition to the employee's hourly rate of pay, and any shift differential the employee would otherwise be entitled to. The premium pay shall be included in all payroll calculations for shifts actually worked, but shall not apply during periods of paid leave, or in calculations of back pay.
Minimum qualifications
A valid Class B Commercial Driver's License (CDL) with no air brake restriction
AND
A tanker endorsement (must be listed on resume)
AND
One year of experience performing activities in any of the following: snow and ice, soils, road surface maintenance, roadside maintenance, bridge maintenance, signs, or related activities (roadway maintenance, driving commercial vehicles, commercial landscaping, operating heavy equipment or farm experience).
OR
Successful completion of a Heavy Equipment Operation and Maintenance Program (of at least 60 semester credits; or 90 quarter credits) will substitute for one year of experience.
Working knowledge of English sufficient to read, write, speak, and understand oral and written information; communicate with employees and the general public in-person or via two-way radio and other electronic devices; and to maintain routine written logs and simple records.
Veterans
Veterans may be eligible for a waiver of CDL based on military experience. Please contact your County Veteran Service Officer to obtain a copy of your VMET DD2586.
How to apply
Go to mn.gov/mmb/careers.
Choose "Search open positions."
Enter "68759" into the search for jobs box and choose the arrow button to search.
Choose the job announcement and then choose "Apply for Job" on the top portion of the webpage. You will then be directed to complete the application process and submit your application and resume.
Application deadline
The job announcement will be open for application through Tuesday, Oct. 17, 2023
Contacts