Graduate Engineer and Land Surveyor Program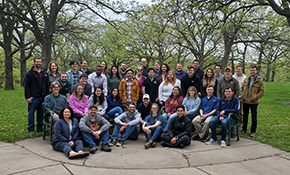 As a trainee in this program, you'll have the opportunity to expand your technical, managerial and human relations skills through on-the-job training and face time with industry professionals. By doing so, you will gain a broader understanding of MnDOT's organizational goals, policies and personnel.
About
The Graduate Engineer and Land Surveyor Program is designed to provide civil, construction, environmental, geo, or structural engineering and land surveying graduates with practical work experience through formal job rotations within various engineering and land surveying sections at MnDOT. While on rotation, trainees participate in a variety of professional, managerial and technical training opportunities, giving you a broad understanding of MnDOT's operations and the customers we serve. You will have an advisor and a mentor (a current MnDOT engineer or land surveyor) to help with rotation planning. This experience will help you make better decisions as you move toward a permanent position with MnDOT.
Professional development
The time you spend on the program will count towards your Professional Engineer (PE) or Professional Land Surveyor (PLS) license. MnDOT is committed to employee development; the department requires people hired into this career path to obtain their PE or PLS License within six years of starting this program. In addition, trainees are expected to participate in non-traditional employment development events such as attendance at engineering career fairs, presentations and other opportunities that become available throughout the year.
Pay
Pay rate is $24.14 - $35.63 hourly, based on prior experience and education.
Eligibility
Applicants must possess a Bachelor of Science (B.S.) degree in civil, construction, environmental, geo, or structural engineering or land surveying from an accredited university. Other majors may be considered depending on the department's needs. Applicants are evaluated on a point system, and points are given for:
GPA of 2.5 or above
Master's degree in a civil engineering or land surveying related field
Prior experience
FE or PE (for Graduate Engineer)
FS or PS (for Land Surveyor)
Application
The Graduate Engineer and Land Surveyor Program recruits and hires on an as needed basis, but typically applications are accepted in the fall and spring each year. You may want to review some tips and guidelines on how to apply and set up search agents.
Go to the State of Minnesota Careers site to search for Graduate Engineer or Graduate Land Surveyor
Set up an account on the State of Minnesota careers website
Submit your resume
Apply for a job