Tier 1 Environmental Impact Statement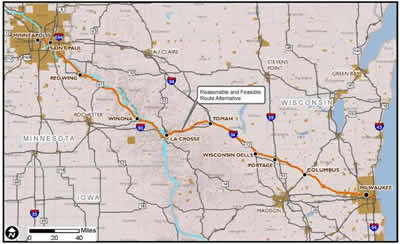 The Federal Railroad Administration in cooperation with MnDOT is in the process of preparing a Tier 1 Service Level Environmental Impact Statement for improved passenger rail service from the Twin Cities to Milwaukee. The study of the Twin Cities to Milwaukee High-Speed Rail Corridor to Chicago will analyze improvements required for the implementation of regional intercity passenger rail service in the Minneapolis-St. Paul to Milwaukee corridor. The proposed improvements will help complete the Midwest Regional Rail Initiative (MWRRI) vision for developing an improved and expanded passenger rail system in the Midwest. The proposed service will eventually link to the existing Amtrak Hiawatha service between Milwaukee and Chicago. This study will be a major step in advancing passenger rail service in this highly populated corridor and extending service from Chicago to the Twin Cities.
Purpose
Focus the purpose and need developed by MWRRI for the Twin Cities to Milwaukee Corridor
Evaluate train types, levels of service, and ridership
Analyze impacts to determine a preferred service and design alternative for the route alternative identified in the Alternative Selection Report as part of MWRRI Phase 7 Work
The Tier 1 EIS document will evaluate one or more service scenarios of the reasonable and feasible passenger rail alternative and a no build alternative. The evaluation will be based on:
Conceptual Engineering
Track Concepts
Capital Cost Estimate
Station Location Analysis
Environmental Analysis
Ridership
Operating Costs
Assessment of Benefits
The tiered environmental process will include a Draft Tier 1 EIS, a Final Tier 1 EIS, and a Tier 1 Record of Decision to conclude Tier 1.
Project schedule
View/print complete schedule (PDF)
2014 - Draft Tier 1 EIS
2015 - Finalize Tier 1 EIS
Next steps
Upon the conclusion of the Tier 1 study, detailed environmental analysis of the corridor and individual projects along the corridor will be identified to be studied in Tier 2 (Preliminary Engineering - PE phase) study.