Midwest Regional Rail Initiative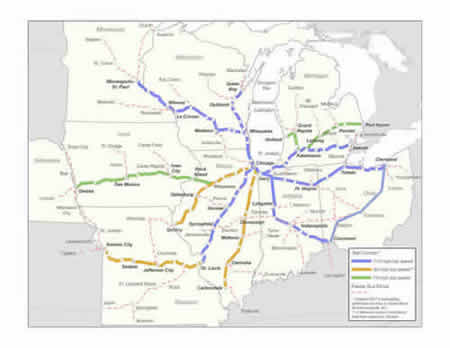 The Midwest Regional Rail Initiative is a cooperative, multi-agency effort that began in 1996 and involves nine Midwest states (Indiana, Illinois, Iowa, Michigan, Minnesota, Missouri, Nebraska, Ohio, and Wisconsin) as well as the Federal Railroad Administration. The Midwest Regional Rail System Plan elements include:
Use of 3,000 miles of existing rail right of way to connect rural and urban areas

Operation of a hub and spoke passenger rail system
Introduction of modern, high-speed trains operating at speeds up to 110 mph

Provision of multi-modal connections to improve system access
The goal of the initiative is to develop a passenger rail system that offers business and leisure travelers shorter travel times, additional train frequencies, and connections between urban centers and smaller communities.
This study includes the 435-mile corridor from the Twin Cities to Chicago. The Minnesota portion of the study includes approximately 150 miles in southeastern Minnesota from La Crescent to Minneapolis/St. Paul that could accommodate high-speed trains. Today, only one train brings passengers from Minnesota to Chicago in about eight hours travel time. With the MWRRI, Minnesotans could travel to Chicago on an additional six trains in five-and-half hours of travel time.
The MWRRI will provide a large increase in service and will cut travel time between destinations by 30 to 50 percent. In addition, new equipment with reduced maintenance requirements, an advanced train signaling and control system, and line capacity improvements will help to establish and sustain a high-level of on-time performance.
As a result of faster trip times, more frequent, and higher quality on-time service, rail ridership in the routes that encompass the MWRRI will increase greatly. This increase in ridership will help to reduce expected growth in automobile congestion on highways and reduce overcrowding and runway delays at regional airports.
Project resources