NRRA Newsletter: December 2018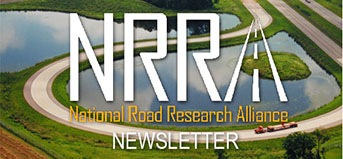 Executive Director's Corner
The National Road Research Alliance has only been in existence since July 1 and, thanks to your efforts, we have accomplished a lot over that short time period. It's been a busy summer for all the Technical Teams working on the experimental designs for the $2.5 million Phase 3 MnROAD reconstruction. I had the pleasure of sitting in on several Technical Team meetings and I was impressed by the abilities of the teams to work together and openly exchange ideas. It was good to see the collaborative effort paying off.

Technical transfer of new--and sometimes not so new--ideas is a major component of the NRRA. This is another area where we are asking our Technical Teams for input. We all are aware of new technology that could be shared better from state-to-state. The NRRA has the funding and the technical expertise to make this happen. We need your ideas to improve the way we do business. Contact me or any of the team chairs with your thoughts and ideas.

Finally, thank you all for your work so far with the National Road Research Alliance. This is new to all of us, and I appreciate your help to make this effort a success. Please feel free to contact me by email (glenn.engstrom@state.mn.us) or phone (651-366-5531) with any questions or thoughts on how we can improve.
What's Next?
NRRA is excited about the future and the efforts of all its members. During the last six months, we have gone from zero to 60. NRRA now has an approved pooled fund, got six states and 20 associates members to join, created an executive committee and five technical teams, identified long-term and technology transfer research needs, and developed a plan for the $2.5 million construction plan for MnROAD funded by MnDOT for the NRRA members. Future efforts will focus on developing contracts to complete the first eight technology transfer topics and establishing a list of contractors to work on the long- term research ideas using MnROAD test sections and other resources each member has. Sharing resources are also expected in the future, including technical staff as well as the responsibility for developing the May 24, 2017 NRRA Pavement Conference. (The conference will include a one-day formal conference but also include workshops, demonstrations and a NRRA meeting during that week).

We have hired a Marketing and Communications person to help the NRRA move forward. The Executive Committee felt it was critical to the overall success of the effort and voted to fund this position. It will be nice to have someone to help us tell our story.

Additionally, several of us will be at TRB in January. We have asked for a room to meet from 3 -5 PM on Jan. 11 at the Marriott Marquis. It will be good to talk face-to-face on how we can move forward on this important effort. More to come on this.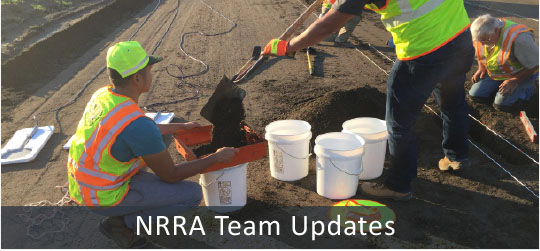 By Ben Worel, MnDOT
NRRA agencies and associate members make up the five teams that play an important technical role in setting both the technology transfer and long-term research needs. Each team has been active this summer meeting every two weeks to develop and prioritize ideas that fall into each of these categories to meet local, state, regional and national research needs. The teams report directly to the NRRA executive committee.

The initial push by each of the NRRA technical teams is to develop long-term research needs and the MnROAD test sections that will be used to support these initiatives. MnDOT is providing $2.5 million of construction funding to support NRRA long-term research needs to be built at MnROAD in the summer of 2017. Each team is working to get the final designs and special provisions to MnDOT so the plans can be developed and a formal construction project can be let in March 2017. Long-term research includes researching HMA overlays of PCC, enhancing HMA compaction, fiber reinforced concrete, effects of diamond grinding on questionable aggregates, PCC early opening to strength, optimizing PCC cement content, compacted concrete pavements for city streets, cold central plant recycling, recycled aggregate bases, large stone subbases, maintaining HMA and PCC roadways, and PCC partial depth repair . Each topic/test section will provide a resource for future research contracts by team.

Other important team activities include the formation of technology transfer topics. The NRRA technology transfer team has been approved by the executive committee to fund two technology transfer topics from each of the four technical teams. Each topic goal is to pull together the existing state and national state of practice so that a common practice or specification can be developed by the members. Prioritized topics include longitudinal joint construction performance, tack coats, design and performance of concrete unbonded overlays, repair of concrete joint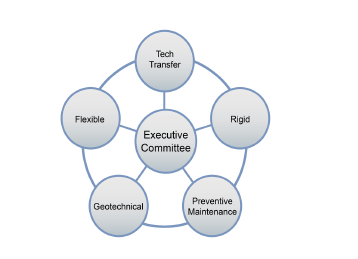 related distress, large unbound subbase materials, subgrade design, surface characteristics of diamond ground PCC, and pavement preservation approaches to lightly surfaced roadways. Currently, the teams are updating the problem statements so that MnDOT can hire a contractor to complete the work.

More information on these efforts, including the long-term research and technology transfer topics, can be found under each team's web page at www.dot.state.mn.us/mnroad/
MnRoad/NCAT Construction Update
Cracking Experiment

By Dave Van Deusen, MnDOT
The Minnesota Road Research Project and National Center for Asphalt Technology have partnered for the first time to investigate asphalt mixture cracking performance testing for implementation at the national level. In support of this partnership, MnDOT recently constructed eight new asphalt pavement test sections at the MnROAD facility.

The MnROAD project is a companion to sections NCAT constructed in 2015 near Opelika, AL. The objective of the experiment is to validate laboratory cracking tests by establishing correlations between test results and measured cracking performance in real pavements (test sections) within a very short timeframe. While the focus of performance at MnROAD will be low-temperature cracking, there is potential for fatigue and top-down cracking.

Each section has a 5-inch thick asphalt pavement with differing low-temperature cracking potential. The mixtures to be tested, selected by pooled-fund states, contain varying degrees of binder replacement, aggregate type (carbonate and granite), and polymer modification.
MnDOT and NCAT researchers will conduct a suite of laboratory cracking tests to identify those tests that best correlate with field cracking. Samples of mixtures obtained during production have been requested by, and made available to, other state DOTs and laboratories.


The project, using MnDOT's design-bid-build delivery process, was let on May 20, 2016. Construction began in July and was completed on schedule Oct. 14, 2016. Hardrives, Inc., of Rogers, MN, was awarded the contract. The scope of work included existing pavement/aggregate base removal,subbase preparation, aggregate base construction, and asphalt mixture paving. MnROAD staff installed pavement and environmental response sensors prior to paving. During mixture production and paving, NCAT staff assisted with sampling, testing and troubleshooting. Researchers used construction equipment equipped with infrared thermometry and GPS to monitor placement temperature and roller coverage. Mainline Interstate 94 westbound traffic was restored to the test sections on Nov. 3, 2016.

Overall, the project was a challenging one because of the constraints associated with small quantities and short research sections. However, the prime contractor and paver, Hardrives, Inc., was very enthusiastic and cooperative in meeting these challenges.
A summary construction report will be published in early 2017. Laboratory performance testing will be ongoing for the next several months. Field performance testing and monitoring will take place throughout the life of the sections, anticipated to be in excess of five years.

Preservation Experiment
By Jerry Geib, MnDOT
The MnROAD/NCAT Preservation Group completed the installation of test sections on US 169 near Pease, MN, and on CSAH 8 in Mille Lacs, MN. Similar treatments were constructed on these two roads to have a high-volume and low-volume test section.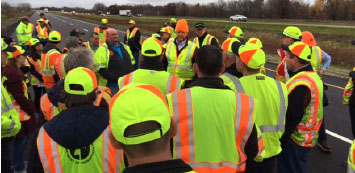 Crack sealing, mastic, chip sealing, micro surfacing, scrub seals, fiber chip seals, ¾" micro milling and fill with HMA, and an UTBWC were placed alone and in combination with other treatments. The specific application rates are being recorded in construction documents and will be posted online. Before- and after-construction pavement management data has been collected and is currently being evaluated. The state transportation departments for Colorado, Illinois, Michigan, Minnesota, New York, and Wisconsin have joined the NCAT pooled fund for the first time to participate in this experiment. Under contract with NCAT, Vance Brothers placed all the surface treatments, while East Alabama Paving placed the thin HMA sections. Monitoring will continue for many years.
MnDOT Holds Intelligent Compaction Training at MoDOT
By Renee McHenry, MoDOT
On August 3, 2016, Rebecca Embacher, Advanced Materials and Technology Engineer, and Josh Colas, Research Analyst, both from MnDOT, conducted hands-on VETA Training for MoDOT staff and contractors at the MoDOT CADD training center in Jefferson City, MO. Developed by The Transtec Group and sponsored by MnDOT, the VETA interface software imports data from intelligent compaction (IC) rollers and paver-mounted thermal profiler systems to perform standardized geospatial viewing and data analysis. The training included a separate session conducted by Gary Motak of MOBA on infrared (IR) scanning using the MOBA device. The MOBA device is mounted on asphalt pavers and monitors real-time mat temperature as well as paver speed, stops and locations during paving.
Earlier in June, MoDOT let two asphalt construction contracts where the contractors were required to use VETA software and perform infrared (IR) scanning to generate intelligent compaction data for analysis by MoDOT. Since MoDOT participates as a member of the Intelligent Compaction (IC) Pooled Fund TPF-5(334) which is led by MnDOT, it was suggested that the Missouri VETA training costs (primarily for MnDOT travel) might be covered under technology transfer funding set aside by the Pooled Fund. Approval was received and planning regarding logistics and expected outcomes for the one-day training began!
The August session for IC/IR training was well attended. It included eight MoDOT staff, 9 staff from the MoDOT contractor that had been awarded the two June projects plus one additional contractor. All sessions were videotaped by MoDOT.
In her presentation, Rebecca introduced attendees to the history, benefits and challenges of using intelligent compaction. It was followed up by a "nuts and bolts" hands-on session on how to input, filter and analyze the data using a sample dataset. Attendees were shown key best practices. For example, the raw data must be formatted properly so that it inputs correctly into the VETA software. State practices may vary.
For example, MnDOT uploads the raw IC data into VETA themselves while MoDOT receives the raw IC data and formatted VETA files from their contractor. Consistent nomenclature must be agreed upon so that data can be filtered effectively. An alignment file must be built that establishes where the pavement boundaries are.
Since VETA, as a standardized tool, is being adopted by state DOTs in their specifications, specification language and variations were also addressed. As a direct result of the training, which gave MoDOT a better understanding of VETA inputs, the agency will be changing its requirement from percent coverage per 1000 feet to percent coverage per day.
Overall, the onsite training provided a timely and much needed technology transfer boost for both MoDOT staff and contractors to smoothly implement intelligent compaction on Missouri asphalt projects. For more information about intelligent compaction or VETA, please contact Rebecca (651.366.5525). For specific questions about the training conducted at MoDOT, please contact Dan Oesch, Field Materials Engineer, MoDOT (573.751.8608).