MIRA Ultrasonic Tomography: a versatile tool for concrete investigation
There's been a lot of discussion about non-destructive tools for examining asphalt pavement—the Dielectric Profiling System being one of them—but what do we have for concrete? The MIRA is a tool that answers that question in a number of ways.

Our own Kyle Hoegh wrote one of the early papers about it in 2011 when he was still a graduate student.
Tom Burnham, MnDOT's senior road research engineer, has been running the latest version of the MIRA device through its paces for several weeks. This is what he's found.

The MIRA uses ultrasonic waves to build a 3D image of the features within a concrete pavement. It can be used to detect:
Thickness
Voids
Delamination
Reinforcement/Dowel bars
Burnham has been using the MIRA lately to detect joint activation and he says the device makes it very easy to detect whether a joint has deployed or not. Just place the device over the sawn joint and in 2 seconds it displays the ultrasonic image on the screen and saves the data internally for later processing on a laptop.

In the case of delamination, the MIRA provides a few advantages over traditional methods. The current method for detecting delamination involves dragging a chain over the surface of the concrete and "listen" for hollow spots. That worked well, to some extent. With the MIRA however, the image generated can tell you exact depth, location and size of the delamination.

Having that information about delamination, below the surface, can be very helpful. Burnham says, "you can evaluate ahead of time if you think you are going to do just a partial depth repair, half way down, or are you going to have to do a full depth repair."

In a recent test, Burnham discovered a delamination at a dowel bar, which was later verified by a core sample. He says he can do about 50 MIRA images in the time it takes to drill one core.

The software stitches all the images together into a grid and allows the user to manipulate the image so you can look at the 3D rendering from every side.

Finally, the MIRA detects cracks in a concrete pavement that cannot be seen with the naked eye. Burnham will continue to test its capabilities over the summer. For example, he wants to see how soon after sawing a joint in a fresh concrete panel can the device be used to detect crack development within the joint. A recent report that included use of the MIRA to determine joint deployment was part of a study conducted by NRRA member CP Tech Center at Iowa State University.
Associate Profile: Trimble
There is not an "Easy" button when it comes to adopting a digital construction model, says Kevin Garcia, Trimble's Business Area Manager for Paving and Specialty Construction, but contractors and DOTs need to understand that maintaining the status quo is not a viable approach anymore.

To be clear, when Garcia talks about a digital construction model, that's the same as Building Information Modeling (BIM), which we discussed at length on the first day of this year's NRRA Pavement Workshop.
On Trimble's side, his organization is committed to making this evolution to digital construction available to as many people as possible. For example, their devices are being designed to send information directly to smartphones, if you are comfortable with mobile technology. They also design them to be as user friendly as possible if you are less comfortable with technology.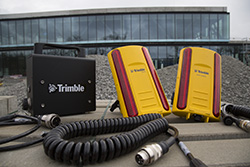 Machine Control in a Box

One of Trimble's innovations is what they call "machine control in a box". It is a box filled with sensors that can be attached to a roller with a couple of wires. It transforms the roller into an intelligent compaction machine with a minimum of calibration and installation. The company has even run contests to see how fast these can be installed. The winner did it in less than 10 minutes.

Garcia says the paving industry also needs to pay more attention to 3D milling*. "You want to fix the problem as early as you can in the construction process," he says, and 3D milling helps you do that. In the short term, a road owner gets a better IRI right away. In the long term, he says, the structure of the road improves.

One of the facets of creating a digital construction model, says Garcia, involves creating a good history of the road in question. We often don't have much information about the pavement we are working on, he says, because there's no history. Especially in mill-and-fills, the big question is always "how much can I take?"

We as an industry need to stop bemoaning the lack of background on a road and begin now, today, to build a history for future crews, says Garcia. In 20 years, we could have enough information on every project to be able to be more effective in designing and constructing our future roads resulting in less variation and longer pavement life.  This saves both time and money in the long run.

*Rebecca Embacher, Intelligent Construction Technologies Team Chair for the NRRA, has put together a special provision for 3D milling that many are finding useful.
Joint Sealant Testing at MnROAD
MnROAD hosted the Louisiana Multi-Functional Materials Group LLC the week of June 24 to install their innovative concrete joint seals. The video below shows them installing their shape memory polymer-based seal, designed to react thermally opposite to common physics. That means when the concrete heats up, the seal contracts to prevent it from squeezing out of the channel. Likewise, when the concrete freezes, the properties of the polymer seal allow it to relax and fill the joint. Professor Guoqiang Li, from Louisiana State University, and his team installed this at MnROAD to test the seal's behavior in a cold climate. Similar trial installations of the material are occurring in Louisiana. To compare performance, the MnROAD team installed several control joint sealants including preformed rubber (donated and installed by D.S. Brown), Crafco silicon sealant, and MnDOT 3725 compliant hot-pour asphalt sealant. MnROAD researchers will monitor the performance of the sealant for 2 years under a research partnership agreement partially funded by the National Science Foundation.
Pavement Research Resources
A report from our own Kyle Hoegh, Shongtao Dai and Eyoab Zegeye Teshale titled "Toward Core-Free Pavement Compaction Evaluation: An Innovative Method Relating Asphalt Permittivity to Density" is now available.
Assessment of the Trimble MX7 for Use in Creation of Alignment Files for the Intelligent Compaction and Paver Mounted Thermal Profile Methods is available from TRB.
Also from TRB and NCAT, Best Practices for Determining Life Cycle Costs of Asphalt Pavements
Research Pays Off July
Steve Dickman and Lloyd Sundstol will be speaking on Dustex, a new product for base stabilization.

Summary: The two will be providing an overview of the company and background. Then they will discuss the origin and chemisty of the product and it's history. They will examine its environmental benefits and sustainability and then provide an overview of the research regarding Dustex. Sundstol will focus on using the product in FDR, its application process and its benefits. Be prepared to answer questions from the presenters in this webinar. ​
Please join us on July 16 at 10 a.m.