About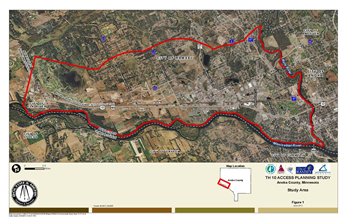 MnDOT and Anoka County, in cooperation with the Cities of Ramsey and Anoka, are conducting the Highway 10 Access Planning Study to re-examine and identify the ultimate amount of access, types of access and locations of access to Highway 10 between the Anoka/Sherburne County line and the Rum River. Based upon traffic volumes and safety concerns along this stretch of Highway 10, project partners agree a freeway is the proper vision for this corridor.
Considering current overall state and federal funding levels, it will be difficult to achieve the vision of a freeway facility on this portion of Highway 10 in the next 20 years. To reduce crashes and improve mobility issues, it is reasonable and responsible to implement lower-cost, interim measures that incrementally improve safety and operations for all users of the Highway 10 corridor.
The intent of this study is to identify high-benefit improvements that are fiscally responsible so that improvements can be funded, programmed and implemented incrementally to improve the corridor's mobility and safety, for motorists and pedestrians, in a timely manner.