Metro District Information Center
Major metro projects
Twin Cities metro projects and studies- 2015 (legislative briefing)
Regional info
Click on your region below for more information or use this city listing to find your MnDOT district.

Metro District
Eight counties in the Twin Cities metropolitan area comprise Metro District of the Minnesota Department of Transportation. The state's two largest cities, Minneapolis and St. Paul, represent slightly less than half of the state's total population. Between 2000 and 2030, growth in this area is expected to generate 15 million trips per day and 86 million vehicle-miles traveled per day, which is a 51 percent increase over the course of these years.

Services
The MnDOT team in Metro District plans, designs, constructs and maintains the state and federal highway systems within district boundaries. We also manage the aid and assistance given to county and city systems that qualify for state and federal dollars. Metro District also provides transit, trail and rail transportation services.
Metro District serves Anoka, Carver, Chisago, Dakota, Hennepin, Ramsey, Scott and Washington counties.
Inquiries
Metro Communications Director
651-234-7507
651-234-7504
Nick Carpenter
Hennepin County
651-234-7710
Congestion Management, MnPASS Projects
651-234-7503
Scott, Carver and Dakota Counties
651-234-7506
Business Liason for Snelling Avenue project
Mackubin Street pedestrian bridge projectl
651-234-7509
Denise Workcuff
Chisago, Washington, Anoka and Ramsey Counties
651-234-7502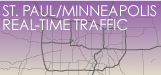 Quick Links
Statewide and District Investment Plans

Connect with us