Bridge lighting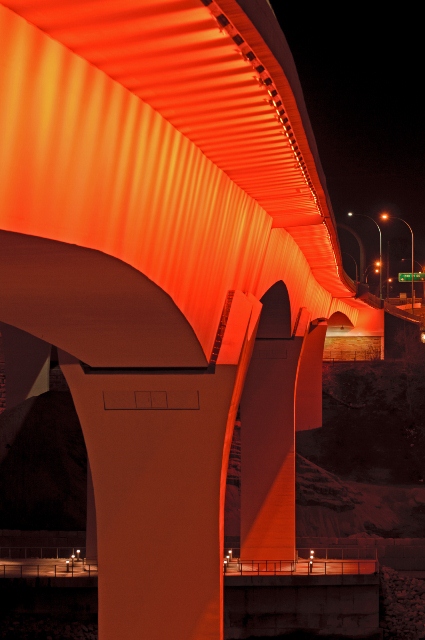 The I-35W bridge is lit on special occasions and in recognition of special events, including in honor of Worker's Memorial Day (April 27-28).
Aesthetic lighting replacement project
Oct. 9 to Dec. 15, 2017
The aesthetic lighting on the I-35W bridge will be turned off, including regularly scheduled special occasions.
Expected closures
9 a.m. - 3 p.m. Thursday, Nov. 16, Friday, Nov. 17 and Monday, Nov. 20
Right lane of northbound I-35W closed
Ramp from Washington Ave to northbound I-35W closed. Detour is 10th Ave to Fourth St.
7 a.m. to 3 p.m. Saturday, Nov. 18
Right lane of northbound I-35W closed
Ramp from Washington Ave to I-35W closed
9 a.m. to 3 p.m. Monday, Nov. 20 and Tuesday, Nov. 21
Right lane of southbound I-35W closed
Ongoing
Single lane closures on northbound I-35W from 9 a.m. to 3 p.m. and 8 p.m. to 7 a.m. daily
Single lane closures on southbound I-35W from 9 a.m. to 3 p.m. and 7 p.m. to 6 a.m. daily
Possible nighttime ramp closures from University Ave to southbound I-35W and Washington Ave to northbound I-35W
Lighting requests
MnDOT receives dozens of requests each year from organizations asking to light the I-35W bridge a specific color for a particular event.
How do I apply for a special lighting of the I-35W bridge for an event?
What do I include in the application letter?
The name of your organization, address, phone number and email address. This should include your own contact information as well.
A description of the event you would like to recognize.
The date of the event.
The specific color you would like the bridge to be lit; preferably the official RGB color scheme.
A copy of the resolution adopted by the city endorsing the event.
When do I send in the application letter?
How do I know if my application has been approved?
MnDOT's Metro District Engineer will review your application. You will be then be notified by MnDOT staff within 10 days of your submittal if the application has been approved or denied.
An application that meets all of the requirements listed above will be granted depending on the lighting schedule. If another organization already has a lighting scheduled for the day of your requested event, your application will be denied.
Approved requests will be granted for a maximum of one night. The lighting will take place 30 minutes before sunset and end 30 minutes after sunrise. Only one approved application will be granted per requester annually.