Funding Package
The total project cost for the Eastwood Energy Industrial Park project is $1,384,000.  TED funds from MnDOT and DEED contributed $969,218 to this project and the rest was funded by special assessments levied by the City of Mankato . 
Project Description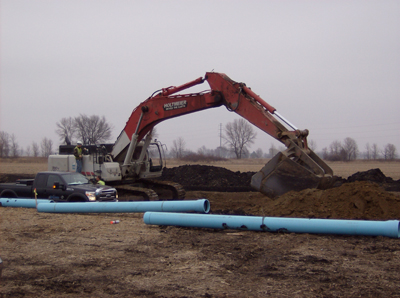 This project involves construction of Energy Drive, which provides direct access to Eastwood Energy Industrial Park.  The industrial park is poised to add 70 acres of industrial development.   

Transportation Impacts
Construction of this project will create a safer access to the industrial park.  The new access will alleviate congestion on the high volume Victory Drive, and reduce the threat of traffic crashes.  It will also provide a more direct route for emerency vehicles. 
Economic Development Impacts
The addition of 70 acres of prime industrial land will enhance the city's ability to meet the development and transportation needs of both new and existing businesses.  Included in the local projects that are currently planned or uder development is a Wal-Mart distribution center, and also a new data center.  Both of these developments are likely to spur additional supporting businesses.  The city anticipates that the project will support 162 new jobs within 2 years and 405 new jobs within 5 years.