Regional industry cluster and transportation infrastructure study underway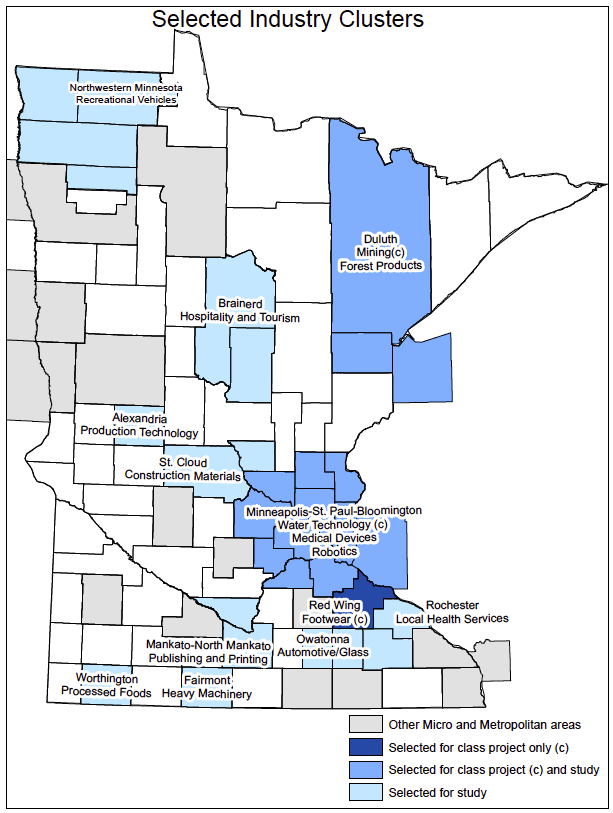 By ATF Staff
University of Minnesota researchers have begun a new study of competitive industry clusters in 12 Minnesota regions to provide insights into how transportation infrastructure investments and polices can influence economic development. The MnDOT-funded study through the university's Center for Transportation Studies is led by Lee Munnich, senior fellow and director of the State and Local Policy Program at the Humphrey School of Public Affairs, and Michael Iacono, research fellow with the University's Civil Engineering Department.
"We have been studying regional industry clusters at the Humphrey School since the mid-1990s," Munnich said. "This is the first time we have used a cluster approach in studying transportation policy."
Traditional policies oriented toward the use of transportation infrastructure to promote economic development have focused on infrastructure as a magnet for firm location, often with little regard for the characteristic of specific industries. This project seeks to advance the state of knowledge of the relationship between transportation and economic development by investigating how firms in specific industry clusters use transportation networks and what role those networks play in the formation and growth of industry clusters.
The Humphrey School's approach combines quantitative and qualitative techniques to geographically identify competitive industry clusters in Minnesota's metropolitan and micropolitan regions, and to further investigate the role of transportation in these industry clusters through in-depth interviews and site visits with representatives of firms in specific industry clusters. These methods are expected to yield valuable insights into how transportation functions as an input within industry clusters, and how it can inform economic development strategies tailored to certain locations and industries.
The research team includes two Humphrey School graduate research assistants, Jonathan Dworin and Bethany Brandt-Sargent, who have conducted a competiveness analysis of regional clusters in Minnesota's eight metropolitan regions and 17 micropolitan regions and will be setting up interviews and site visits with businesses in different regional clusters. The study used a new cluster mapping tool developed by a Harvard Business School team for the U.S. Economic Development Administration in identifying the clusters. The MnDOT technical advisory panel (TAP), led by Philip Barnes and Bruce Holdhusen, selected the 12 regional clusters for further analysis. Student teams in a course on economic competitiveness taught by Lee Munnich are studying three additional regional clusters and identifying transportation issues.
A primary benefit anticipated from this research is a more in-depth knowledge of the role of transportation in the economic development process at a micro-level. This knowledge may be valuable in designing policy toward transportation and economic development that is focused toward specific industries or geographic location. The findings are expected to reveal the multitude of ways in which firms make use of different modes of transportation in their production processes, from increasing the potential pool of highly skilled labor to using air, truck, or rail freight modes to ship intermediate inputs and finished goods. This knowledge will help MnDOT in developing long-term, strategic investment policies to promote economic development tailored to the variety of economic conditions that exist throughout the state.
Posted 11/1/2013