P3s vs. privatization: a brief overview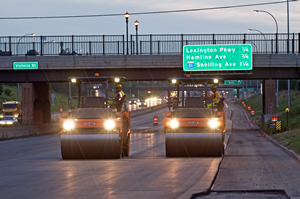 By Phil Barnes, MnDOT alternative finance lead
Recently, there has been much debate about the distinction between privatization and public-private partnerships ("P3s"). Although it's understandable that some might confuse the two terms, in reality they are very different things. As MnDOT continues exploring new ways of financing transportation projects, it's important to understand the difference.
First, let's define the terms. "Privatization," in the context of transportation infrastructure, is the process of complete transfer of ownership from an agency to the private sector. In privatization, private-sector firms essentially take on the entire MnDOT function — all responsibilities and accountability for a corridor or bridge, for example. Naturally, it's a controversial practice. Critics rightly point out that the public might have less control or oversight over private companies than they would over an agency like MnDOT. Based upon the strategic nature and public goals of the transportation system, and MnDOT's social obligation to the common good, privatization of transportation infrastructure seems highly unlikely in the near future.
P3s are very different from privatization. They are contractual agreements formed between a public agency and private sector entity. A common example of such an agreement is the traditional approach that MnDOT takes in delivering construction projects, known as Design-Bid-Build. In this DBB approach, MnDOT designs, funds, operates and maintains the infrastructure. By definition, the traditional approach is still a contractual agreement with the private sector, because the private entity has a contract to complete construction on time, within budget, and with acceptable level of quality. This contractual approach transfers some responsibility, but MnDOT has oversight power and the ability to stop or change a project. Further, MnDOT has ability to hold contractors accountable through the contract's language to ensure quality, schedule and reasonable cost.
Traditionally, private sector participation has been limited to separated planning, design or construction contracts. MnDOT has already taken large steps to combine responsibilities of the private sector and form more complex contracts. For example, MnDOT has completed 25 Design-Build contract arrangements. In a DB contract, the contract does not separate the design and construction responsibilities into separated contracts, but rather combines these responsibilities into a comprehensive contract. DB approaches can prove to save time and money for MnDOT, while providing the opportunity for private sector innovation. DB approaches transfer the risk of design errors and omissions to the private partner, and relieves MnDOT of some legal and managerial responsibilities.
Beyond DB and DBB, there are more contract types to transfer more responsibility to the private sector. These approaches would never give up MnDOT overall ownership and oversight power. P3 approaches can be used to have the private sector be responsible for Design, Building, Financing, Operating and Maintaining over the life of the infrastructure. Similar to choosing DB over DBB, these more complex DBFOM contractual arrangements need careful legal, financial and policy analysis to ensure that taxpayers are receiving the service level needed more efficiently than traditional approaches. DBFOM requires accurate forecasts of risk over the infrastructure life-cycle, project revenue forecasts, and operations cost estimates to ensure service level.
In some cases, the private sector might be the most cost-effective way to design, build, finance, operate and maintain a piece of infrastructure over its life-cycle. As federal and state budget belts continue to tighten and financial stewardship responsibilities continue to grow, these various types of contracts are likely to play an increasingly prominent role in helping deliver transportation projects. The challenge is to ensure that for each of these projects, due diligence and a thorough cost-benefit analysis are completed in a transparent, detailed and equitable way. In no way is MnDOT planning to transfer ownership of any public asset to the private sector. Absent some kind of major legislative overhaul, MnDOT will have responsibility for oversight and stewardship of contracts.
Posted 7/1/2013