Project summary
Safety improvements (bump-outs and mid-block pedestrian crossings) along Hwy 9 in New London are being added to improve safety for walkers and bikers to cross Hwy 9
Dedicated turn lanes are being constructed near the the Country Stop
Portions of the retaining wall along the Mill Pond bridge are being replaced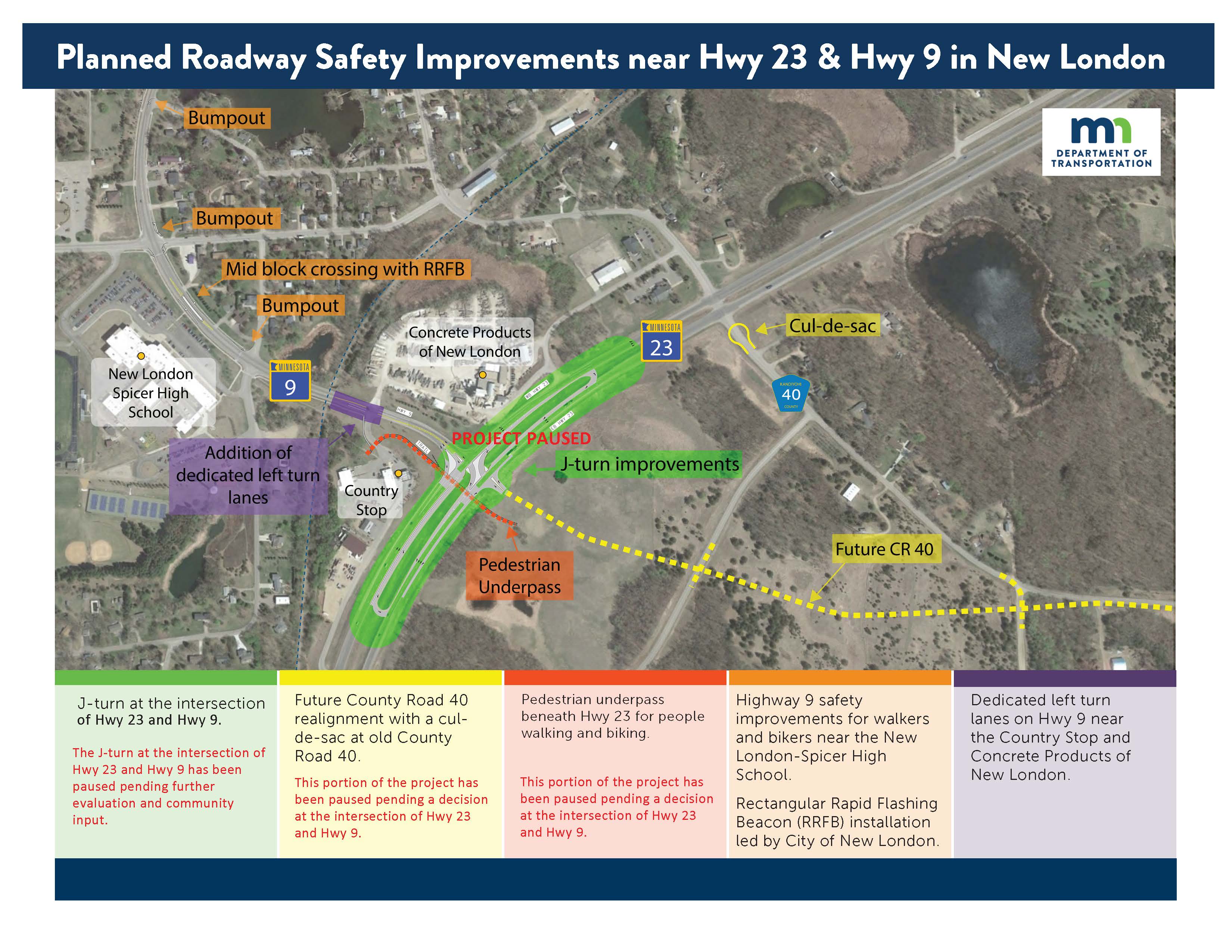 Project update
Hearing concerns from the New London City Council as well as the public, MnDOT District 8 made the decision to step back and pause the construction of a J-turn at the intersection of Hwy 23 and Hwy 9.
With the decision to pause the J-turn project, the intersection of Hwy 23 and Hwy 9 will substantially as is until the re-evaluation is complete. Depending on the selected safety improvement option, construction of a safety improvement at the intersection of Hwy 23 and Hwy 9 could be delayed to 2024 or later.
There are some pieces of the overall safety project that will move forward during the summer of 2022 (project summary above).
Short-term improvements
MnDOT is moving forward with the installation of LED intersection warning signs at the intersection of Hwy 23 and Hwy 9 in New London. Signs will be installed approximately 1,000 feet from the intersection. Click here to see an image of the signs and location.
The warning signs will alert drivers of traffic approaching the intersection.
The warning signs are a short-term improvement that can be implemented while a long-term solution is re-evaluated (see community input process below).
The signs are expected be installed this fall.
Community input process
MnDOT has secured Pamela Whitmore, Whitmore Resolution Group, to facilitate the community input process, including the formation of an advisory group, to assist in the engagement.
The advisory group will be integral to helping analyze potential safety solutions, consider public feedback, and make a recommendation to MnDOT on a safety solution that can be implemented in the next five years, will allow for future growth, minimize impacts on adjacent properties and assure the flow of commerce on Highway 23.
In-person and virtual options will be available for the public to give input throughout the process.
The process is expected to take approximately 6 months.
The first advisory group meeting was held on Monday, April 11 at Peace Lutheran Church. Click here to read a summary of the first meeting.
The next advisory group meeting will be held on June 13 at Peace Lutheran Church in New London.
Advisory group membership
Bill Adams, New London-Spicer School District
Kelly Asche, City Council
Ryan Barney, MnDOT District 8
Cody Brand, MnDOT District 8
Doug Dietz, New London Township
Jon Huseby, MnDOT District 8 - District Engineer
Roger Imdieke, County Commissioner
Trooper (Josh) Monson, MN State Patrol
Mandi Lighthizer, MnDOT District 8
Mel Odens, Kandiyohi County
Stacey Petersen, Amcon Concrete Products
Josh Reed, New London Chamber of Commerce President and business owner
Anthony Rupp, New London Fire Chief
Richard Schmidt, business owner and community member
Darica Schneider, Jennie-O
Dr. Richard Wehseler, community member