Traveling in the southwest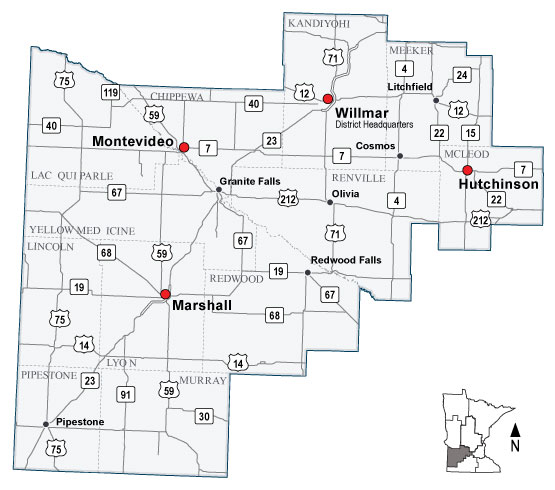 Traffic and roads
District 8 news
We are looking for your feedback on the Hwy 12 Reconstruction Project. Take the Hwy 12 survey now!
Traffic Alert for Hwy 269 in Jasper - Motorists traveling in Jasper will encounter a short detour starting July 25 as work will be done on the railroad crossing near the intersection of Hwy 23 and Hwy 269. The work/detour is expected to finish July 26.  Motorists will be detoured on CR 13 and CR 2.
Traffic Alert for Hwy 40 near Milan - Motorists traveling on Hwy 40 near Milan will encounter a short one day detour starting July 31 as the Lac qui Parle Bridge will close for one day so that crews can conduct a bridge inspection. Traffic will be detoured using Hwy 119 and CR 13. The bridge will be closed from 8 am to 4 pm.
You're invited to an open house for the Hwy 75 Pipestone project on Monday, Aug. 7 from 5-6 pm at Pipestone City Council Chambers (119 2nd Ave. in Pipestone).
Utility location and surveying work has started in downtown Hutchinson as part of the 2020 Hwy 15/Main Street reconstruction project. Motorists and residents will notice bright pink paint along the project area. For more information on the project visit the webpage.