Traveling in the southwest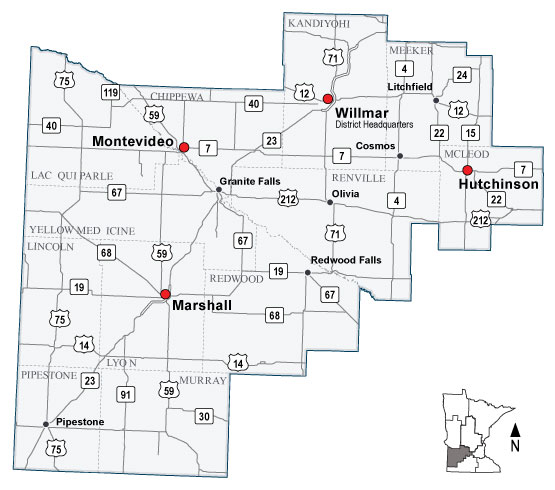 Traffic and roads
Construction News
Hwy 75 Pipestone - impacted business open house: May 2nd from 4-6 pm at the Pipestone County EMS building. For more information visit the project page.
Hwy 4 Grove City resurfacing project begins Monday, April 24th. Road will remain open, but motorists should expect delays.
District 8 kicked off its 2017 construction season on April 13. For a complete list of projects visit the 2017 construction projects page.
Hwy 22 south of Litchfield closed Monday, April 17. The Hwy 22 project includes the resurfacing of Hwy 22, culvert replacement and construction of turning lanes. For more information on the project and the detour visit the project webpage. Construction is anticipated to wrap up by the end of June.
Hwy 22 closed Monday, April 17 at 7 am. Hwy 22 will be closed between the intersections of Hwy 22/McLeod CR3 to the intersection of Hwy 22/McLeod CR 2 as the City of Glencoe replaces it's utilities. Hwy 22 is expected to open May 8. Questions? Please contact the City of Glencoe.