Traveling in the southwest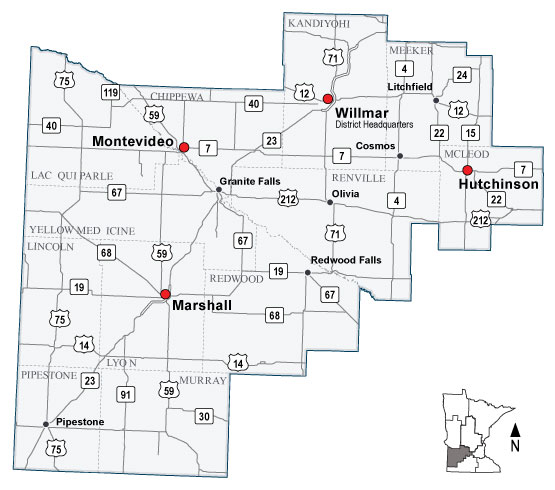 Traffic and roads
District 8 road conditions
The No Travel Advised for portions of southwest MN has been lifted. Motorists should be aware that blowing snow is still an issue in the area.
District 8 would like to remind motorists that the average snow plow route is 60 miles, round-trip. Some routes are considerably longer. In difficult conditions it can take up to four hours for a snow plow operator to plow a route. In good conditions it can take 2 1/2 hours to plow a route. In general, plows are out from 3 am to 10 pm, longer if conditions require it.
During or after a snowfall, vehicle tires pack down snow on the road.  If the temps are below freezing, the compacted snow freezes and forms a layer of ice.  As more snow falls, the cycle continues and the layer of ice thickens.  Trucks continue to plow, but the blade is less effective on compacted snow. 
To access plow cameras go to 511 and click on plow cameras on the left menu. A window will open to show photos and a map where the plow is. Please note that not all snow plows have cameras.
To access the Road Weather Information System go to 511 and click on cameras on the left menu. A window will open to show photos and current weather and road conditions.
District 8 news & public meetings
The final report of the Hwy 23 New London Safety Assessment is complete. Visit the project webpage to read the report and learn more about the safety assessment.
The pedestrian flashing beacon in Litchfield will be removed the evening of January 22, 2018. The traffic signal will be unwrapped and will flash red and the stop signs on 3rd Street will be bagged. The stop signs will be removed on January 23, 2018. Once removed, the traffic signal will be fully operational. Message boards have been placed prior to the intersection to notify drivers of the traffic control change.
The Findings of Fact and Conclusions for the North Gap (Hwy 23 from Paynesville to Richmond) is complete. There is no funding for construction at this time. For more information visit the project webpage.