About this project
Two sections of Hwy 99 in Le Sueur County will be improved in 2019.
Traffic impacts
Detour on Highway 99 from Highway 13 to Highway 21 begins May 20. Traffic detoured to Highway 13 and Highway 21 until project completion.
Detour on Highway 99 in Cleveland not expected to begin until July. Traffic detoured to Broadway and 6th Street until project completion.
Summary of work
Hwy 99 from the Minnesota River Bridge to Le Sueur County Rd. 38

Resurface with mill and overlay from MN River Bridge to railroad crossing
Add left turn lanes at County Road 15, 6th Street and the east entrance to gas station
Add left turn lane at Rabbit Road
Modify curb lane at southwest corner of Hwy 99 and Broadway in Cleveland
Add intersection lighting at Rabbit Road and County Road 49 in Cleveland
Replace guardrail
Realign sidewalk/trail in Cleaveland and install ADA ramps on 6th Street in Cleveland
Potentially adding curb to the west of County Road 23
Replace and extend large culvert in Cleveland
Detour to Broadway and 6th Street in Cleveland for culvert work

Hwy 99 from Hwy 13 to Hwy 21 in Rice County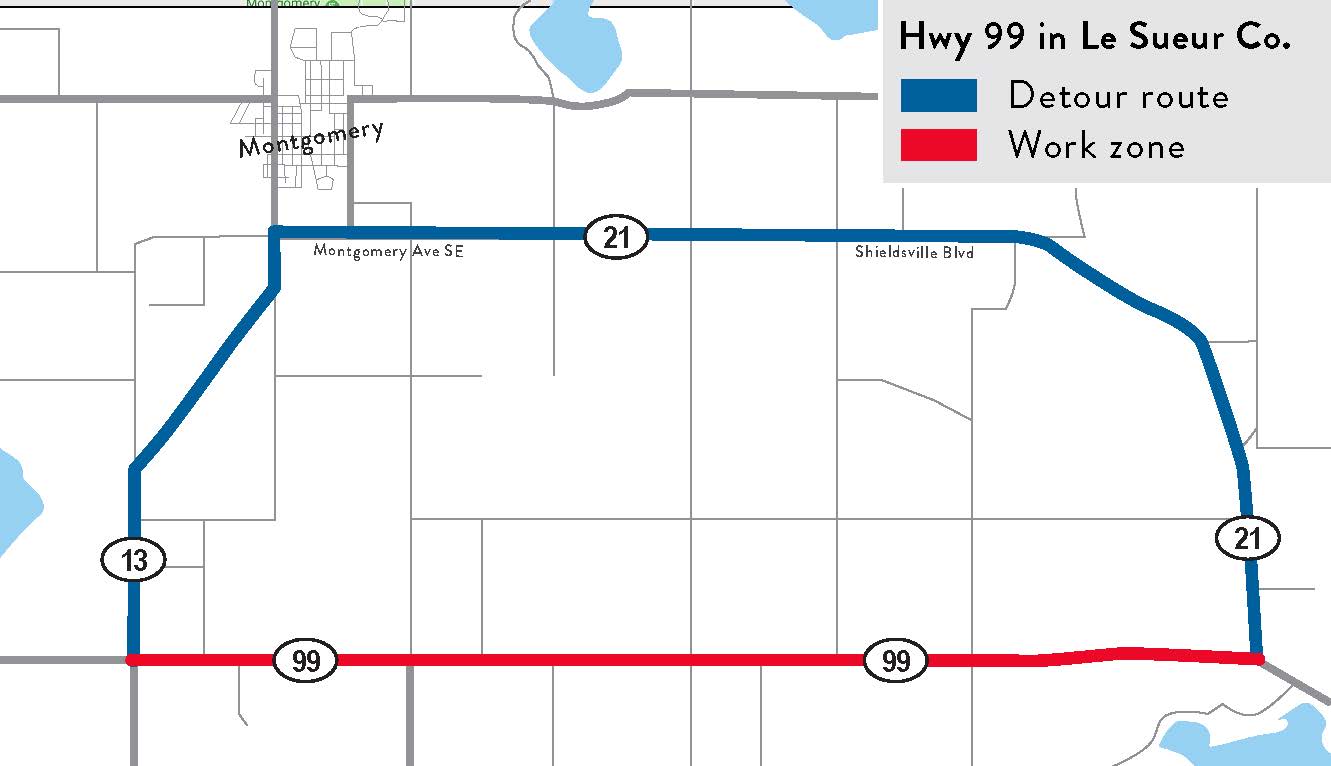 Resurfacing - 8 miles
Add right turn lanes at County Road 3
Removing or updating guardrail
Maintain park and ride east of Hwy 13 by paving parking area
Add intersection lighting at County Road 3
Replace culverts
Detour to Hwy 21 for culvert work