Traffic/construction impacts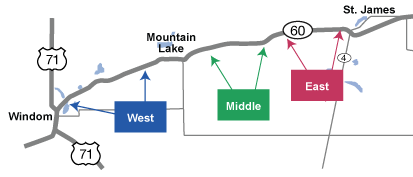 Butterfield to St. James
Four lanes open Oct. 6, 2014

Construction schedule
Butterfield to St. James was constructed in 2013-14..
Construction for the gap from Mountain Lake to Butterfield will take place 2015. Final design work is underway on these segments.
The final segment from Windom to Mountain Lake is planned for 2017. While the roundabout at Hwy 71 in Windom was not part of the environmental review, it is being considered for construction in 2017.