Victory Drive Memorial Corridor Project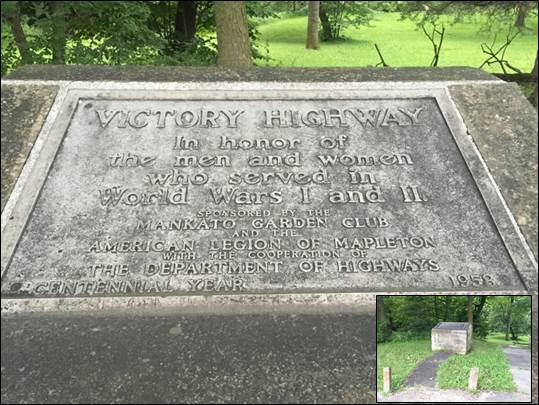 Get involved!
We are looking for input on the landscape plans to beautify the corridor and pay homage to our Veterans!
Thank you to those who have attended an open house. It is not too late to get involved. Just contact robert.jones@state.mn.us. Feel free to print and distribute the Victory Drive Memorial brochure.
The Hwy 22 Victory Drive Memorial Corridor
Watch the video to learn about this project and the history of the beautification of this corridor as an honor to local veterans. Your input is needed to help MnDOT determine the best approach for the corridor that will continue to honor our local veterans and raise awareness of its significance.
Three initial concepts that were reviewed by the public included:
Soldier's formation - More formal design with linear plantings representing soldier's standing in line. Low-grow native grasses throughout the corridor, addition of more numerous areas of replacement native trees as feasible, and addition of linear rows of shrubs with seasonal interest.
Unbroken - More curvilinear design representing an unbroken spirit weaving through the corridor. Low-grow native grasses closest to the highway contrasting with taller pollinator species containing wild flowers and grasses on side furthest from highway in meandering pattern, and addition of some native trees and shrubs with seasonal interest.
Healing landscape -Focus on having the entire corridor covered in pollinator species containing wild flowers and grasses initially placed to display shifts in seasonal colors for a more natural landscape that will transition itself over time. Limited inclusion of trees and no shrubs.
Three hardscape or monument concepts in the initial public review included:
Concept One: Basalt column groupings at gateways, individual basalt highway markers in corridor, and basalt memorial at Mapleton
Concept Two: Series of 5 Kasota stone columns with flags at gateways, individual Kasota stone highway markers in corridor and large Kasota stone memorial at Mapleton
Concept Three: Tall Kasota stone column at gateways and small Kasota stone memorials at Mapleton
*Note momuments shown on concepts will need private funds.
Opportunities and constraints (PDF) with this project to consider.