About this project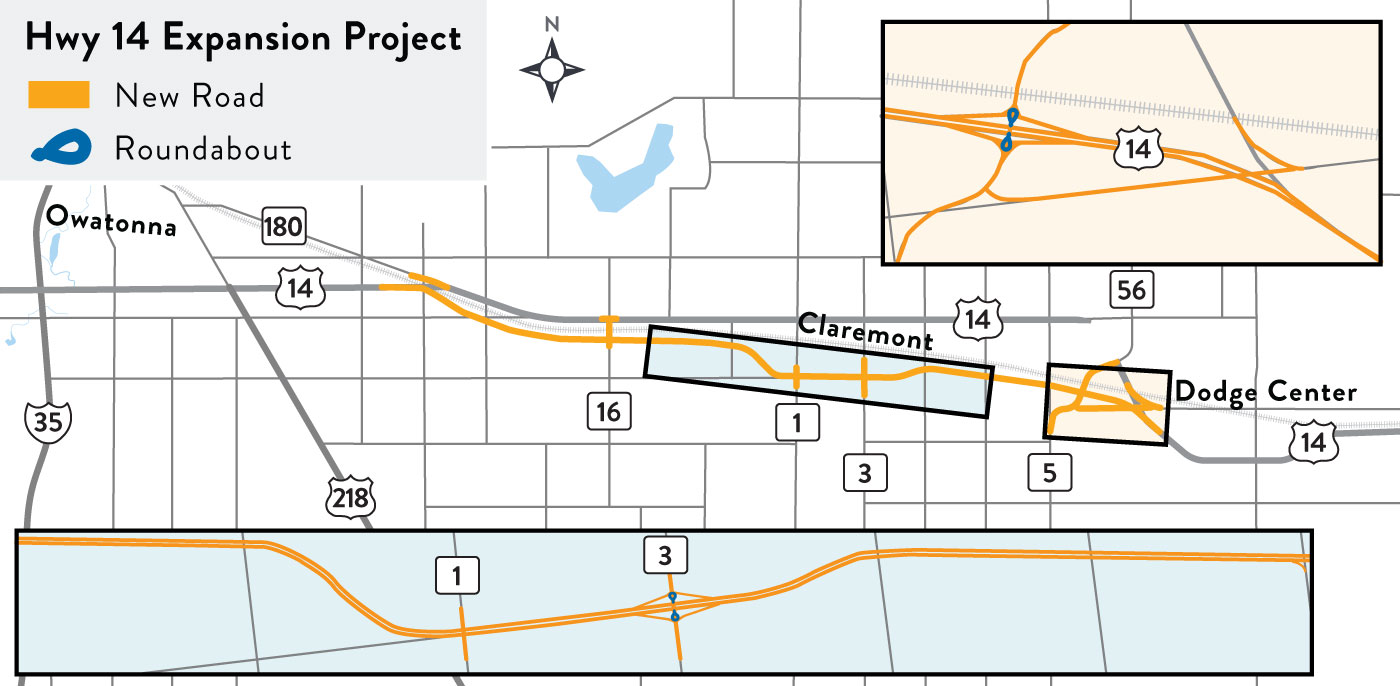 Update
Construction activity on the Hwy 14 expansion project between Owatonna and Dodge Center has wrapped up for the season as winter settles in across the region.
Here is a quick update of some of the work that occurred in 2020 and then key elements that we expect to see in 2021:
Bridge building:

The Dodge Co. Rd. 1 crossing of Hwy 14 was completed this year and opened to traffic to allow for additional county road closures for bridge construction.
Bridges over Hwy 14 that connect county roads were built, but still need work for completion at Dodge Co. Rd. 3 and Steele Co. Rd. 16. The Dodge Co. Rd. 3 will be at an interchange once the project is completed to connect to the county road that also connects to Claremont.

Paving:

Approximately 4 lane miles were paved on the project this year. Much of the work is in the vicinity south of Claremont.

Other work:

The new highway alignment is where agriculture work existed. The clay subsoil needs to be dried out before it's included in the roadbed as the new highway is built. Significant earth moving work occurred to accomplish this to ensure a quality road that meet's MnDOT's specifications.
The new highway alignment also requires numerous drainage features to not only perpetrate existing drainage but also to treat runoff from the new roadway. Over 50 new drainage culverts crossing the new roadway were installed, along with 8 storm water ponds.
You may have seen news coverage recently about a dedicated deer crossing passage along the new alignment. This was identified through Minnesota Department of Natural Resources and MnDOT personnel and an established drainage structure was increased in size to provide the height and width to accommodate deer as a way reduce vehicle-deer crashes.
Coming up in 2021:
More paving will be completed along the remaining 12.5-mile new route.
Completion of the Dodge Co. Rd. 3 and Steele Co. Rd. 16 bridges.
Construction and completion of the Hwy 14 interchange at Hwy 56 and Dodge Co. Rd. 5.
Traffic is expected to be on the new Hwy 14 alignment in fall of 2021 with the project completed in 2022.
Summary of work
The project will expand 12.5 miles of Hwy 14 from two lanes to four lanes between Dodge Center and Owatonna to complete a continuous four-lane road between Mankato and Rochester. The project is intended to improve the capacity, safety, travel times and access between Rochester and Owatonna, as well as the I-35 corridor. The expansion area is a new route for Hwy 14, which will stay south of the railroad tracks on the west side of the project, travel south of Claremont and connect where the four-lane highway is west of Dodge Center.
Shafer Contracting of Shafer, Minn., is the prime contractor for the $107,997,119 construction project. Construction is scheduled to be completed by 2022. Traffic on the new Hwy 14 route is expected in 2021.