About this project
The Minnesota Department of Transportation completed an environmental study for the Highway 14 expansion project from Owatonna to Dodge Center in Fall 2010 with no funding identified for construction.  During the 2013 legislative session, the Corridors of Commerce (COC) program was enacted.  This authorized trunk highway bonding to be used for projects not already in the states' four-year State Transportation Improvement Program (STIP).  In November 2013, a segment of Highway 14 from the study was selected (among other projects) and awarded construction funding through COC. The selected project will extend the four-lane section of Highway 14 east, 2.5 miles from Highway 218 toward Dodge Center.  Construction is expected to be completed by Fall 2015, reducing the four-lane gap to 13 miles between Owatonna and Dodge Center.  Completing this connection is a priority for the department.  The Department will continue to invest resources in pre-construction activities for reducing future cost and schedule delays and making this important interregional corridor more construction ready.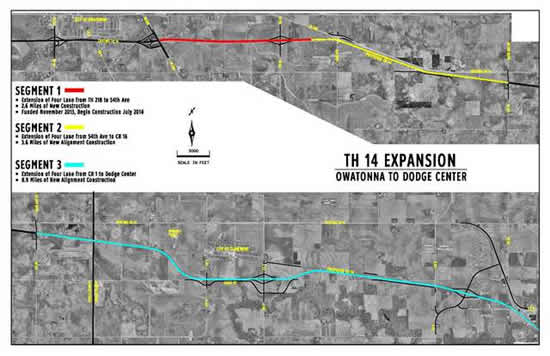 Click image for larger version
Further information regarding COC projects can be found at this website.
Further information regarding the construction status of Hwy 14 funded via COC can be found at this website.