About this project
Governor Dayton and MnDOT announced 10 'Corridors of Commerce' projects on November 14, 2013. Highway 14, segment 1, from Highway 218 to east of Steele County Road 43 was funded. Construction of Segment 1 is expected to begin late summer of 2014.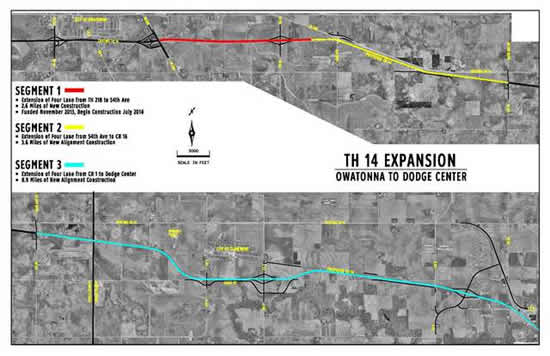 Click image for larger version
Hwy 14 is a four-lane highway from Mankato to Rochester, except the section of Hwy 14 from I-35 to Hwy 56. The proposed Hwy 14 improvement project will include reconstruction and capacity expansion as a rural four-lane divided freeway. The proposed alignment is south of existing Hwy 14, paralleling the railroad corridor. Local system access will be provided with overpasses and interchanges. Total project corridor length is approximately 18 miles.