About the project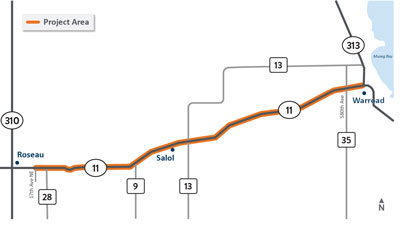 Construction is now planned for 2025, it was previously scheduled for 2024.
Along with resurfacing, MnDOT plans to construct additional turn lanes and realign the section near the Roseau Airport. The highway is in need of long-term improvements to address safety and aging infrastructure.
Resurface deteriorating pavement
Realign the section near the Roseau Airport
Replace culvert
Construct right turn lanes and center left turn lane
Roseau area improvements
Three concepts were evaluated for airport safety, vehicle safety, safety of the highway system, environmental impact, construction costs, public input and property acquisition.
Concept 2 was selected. It will increase safety with better sightlines and allow for a consistent 60 mph speed limit.
Concept 1- Although it would allow for a straight road, it ultimately isn't a viable option, as it would keep the road within the airport runway clear zone which go against FAA and Aeronautics safety requirements
Concept 2- It satisfies the runway clear zone requirements and improves safety by removing the existing 45 mph curves
Concept 3- Also satisfies the runway clear zone requirements, but requires increased costs in construction and land acquisition
Recommended design

Warroad area improvements
The 2016 Hwy 11 Corridor Study identified safety concerns in this area related to a lack of turn lanes and too many access points. The recommended design through the "ridge" area near Warroad will include:
A continuous center left-turn lane
Realigning skewed intersections at 349th Ave, 350th Ave and 560th Ave to provide a safer 90-degree intersection with Hwy 11
First Lakewood Ave will be realigned to line up directly across from Pine Ridge Rd