About the project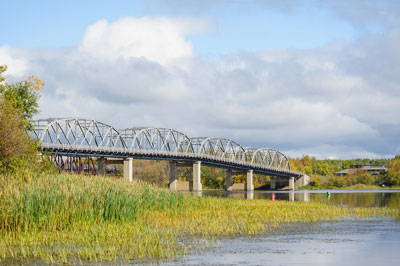 A coordinated effort
MnDOT, in cooperation with the Ontario Ministry of Transportation, is currently constructing the replacement of the Baudette/Rainy River International Bridge on Hwy 72 in the City of Baudette, Minn. and Hwy 11 in the Town of Rainy River, Ontario.
Latest news
(updated September 27, 2019)
Pier Construction:
Contractor has constructed 7 of 8 drilled shafts for the pier foundations.
The final drilled shaft on the easterly pier is anticipated to be completed around the end of September.
The contractor has completed construction of the 2 piers on the Minnesota side of the river.
The contractor is scheduled to complete the remaining pier work on the Canadian side of the river this fall after the drilled shaft construction is completed.
Abutment Construction:
The Minnesota abutment construction is complete.
The contractor is scheduled to complete the abutment on the Canadian side in early October.
Girder Erection
The contractor is scheduled to begin setting the beams for the bridge in early to mid-October.
Work to be Completed in 2020
Concrete bridge deck construction, construct bridge barriers, and roadway construction between customs stations.
Visit the photo gallery to view pictures of construction progress.
Traffic impacts
Overall traffic impacts will be minimal as the new bridge is constructed along side of the old bridge.
Through traffic will be maintained during the construction project.
Traffic will encounter construction equipment on the Minnesota side which will be hauling equipment and material, to and from the temporary causeway that is adjacent to the existing bridge.
NAVIGATION WARNING: Users of the Rainy River are advised that construction activities are ongoing to construct a new bridge and replace the existing International Bridge. Users should expect additional boating traffic as construction materials and workers are ferried to and from barges that are anchored. A navigation channel is marked with Port and Starboard buoys up and down stream of the construction site; these buoys are illuminated for low light and dark conditions. Additionally, there are temporary works and barges within the water way that are illuminated with yellow flashing beacons for low light and dark conditions. PLEASE EXERCISE CAUTION.