About the project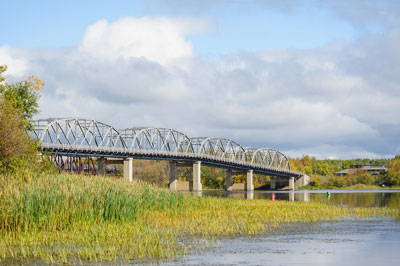 A coordinated effort
MnDOT, in cooperation with the Ontario Ministry of Transportation, has currently started construction for the replacement of the Baudette/Rainy River International Bridge on Hwy 72 in the City of Baudette, Minn. and Hwy 11 in the Town of Rainy River, Ontario.
Latest news
Upcoming schedule
(updated April 01)
During the summer of 2019, the contractor will use a crane on the temporary causeway into the Rainy River on the Minnesota side. This will give crews a working space to construct the bridge abutment and first river pier.
During late spring and throughout the summer of 2019 the contractor will be constructing the new concrete piers in the Rainy River
Visit the photo gallery to view pictures of construction progress.
Work completed
Construction of a 250-foot temporary causeway
Construction of abutments on the Minnesota and Ontario shorelines
Traffic impacts
Overall traffic impacts will be minimal as the new bridge is constructed along side of the old bridge.
Through traffic will be maintained during the construction project.
Traffic will encounter construction equipment on the Minnesota side which will be hauling equipment and material, to and from the temporary causeway that is adjacent to the existing bridge.