Airport zoning
In Minnesota, communities in the airport influence area enact zoning. A set of Procedural Steps is prescribed that meets the requirements set forth in Minnesota Statutes Chapter 360 sections 360.061 to 360.074.
Land use safety zones and other Airport Zoning Standards are established in the Minnesota Rules Chapter 8800.2400. Minimum Standard Zones are; Safety Zone A, Safety Zone B, and Safety Zone C. These zones are intended to restrict land uses that may be hazardous to the operational safety of aircraft using the airport, and to protect the safety and property of people on the ground in the area near the airport.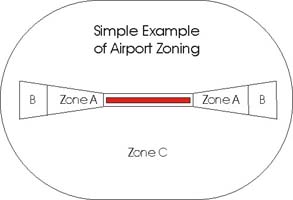 Click on diagram above for use restriction details
The historical basis for the shape of Safety Zone A and Safety Zone B is recommended in a report entitled The Airport and its Neighbors - The Report of the President's Airport Commission (PDF, 16.88 MB). Chaired by General James H. Doolittle, the Commission made a series of 25 recommendations to President Harry S. Truman on May 16, 1952.
The shape of Safety Zone C is a projection of the horizontal surface of the Airspace that surrounds each public airport. The Federal Aviation Administration (FAA) has "...Complete and exclusive national sovereignty in the airspace above the United States...." granted to the agency by the Air Commerce Act of 1926.