Specialty and competitive programs
Intelligent Transportation Systems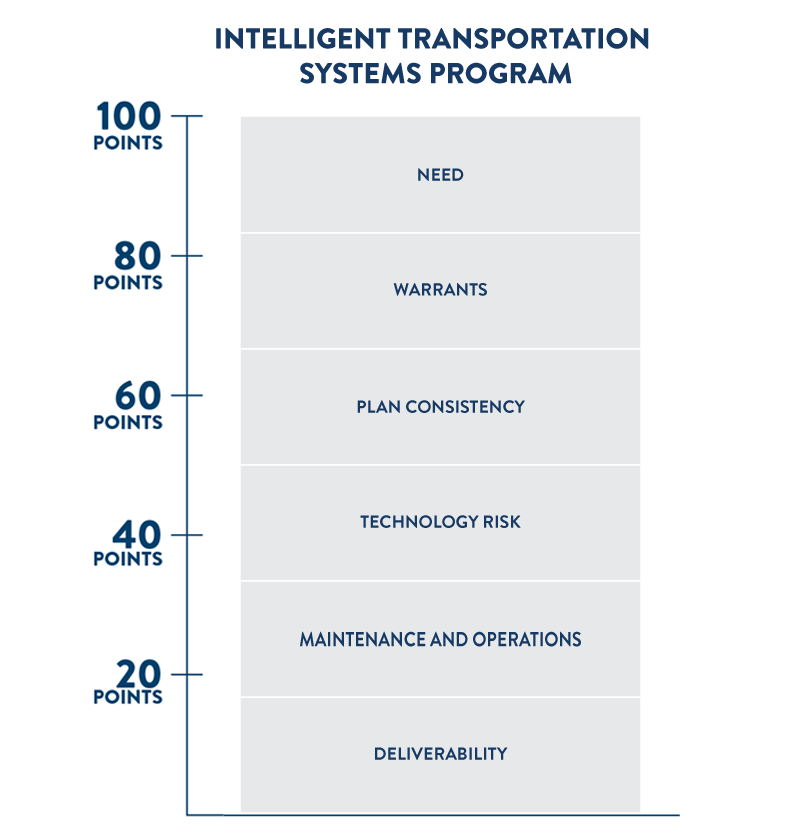 The Intelligent Transportation Systems (ITS) program funds the installation of new or upgrade of existing electronics, communications, or information processing systems or services to improve the efficiency and safety of the state highway system.
Potential projects are identified by MnDOT district staff, who provide project requests to the MnDOT Office of Traffic Engineering.
What's been selected?
Related Links
How the projects scored
The construction costs shown on this list represent a very rough estimate based on limited information available at the time selection decisions were made. Actual construction and delivery costs will change over time as projects go from a concept through the project development process and are eventually constructed.
Last updated October 2021
| Score | District | Description | Amount Requested | Amount Awarded | Year | Comments |
| --- | --- | --- | --- | --- | --- | --- |
| 15.6 | 7 | I-90 West Road Closed Systems |  $750,000 |  $750,000 | FY 2026 | |
| 15.2 | 7 | I-90 East Road Closed Systems |  $675,000 |  $675,000 | FY 2026 | |
| 15 | 1 | QUAD Cities Fiber Extension and Camera Installation (Virginia, Eveleth, Gilbert, Mt. Iron) |  $275,000 |  $275,000 | FY 2026 | |
| 14.6 | 7 | MN 60 Road Closed Systems |  $550,000 |  $-   | FY 2026 | Not selected |
| 14.6 | RTMC | Northwest Metro FMS System |  $700,000 |  $-   | FY 2026 | Not selected |
| 14 | Metro | Fiber Optic Extension and CCTV installation |  $450,000 |  $-   | FY 2026 | Not selected |
| 13.8 | 3 | MN 23 Fiber interconnect & cameras |  $290,000 |  $-   | FY 2026 | Not selected |
| 13.4 | 6 | D6 I-35 Phase VI |  $750,000 |  $-   | FY 2026 | Not selected |
| 13.2 | 3 | MN 55 Fiber interconnect & cameras |  $350,000 |  $-   | FY 2026 | Not selected |
| 13.2 | 4 | Interstate Operations in Moorhead – fiber communications and cameras |  $400,000 |  $-   | FY 2026 | Not selected |
| 11.4 | 3 | MN 25 Fiber trunk line |  $600,000 |  $-   | FY 2026 | Not selected |
| 0 | 3 | US 10 Fiber trunk line extension, cameras, & NID |  $100,000 |  $-   | FY 2026 | Project withdrawn. Funded by CAV office |
Previous years