Safety programs
Highway Safety Improvement Program
Greater Minnesota (state projects)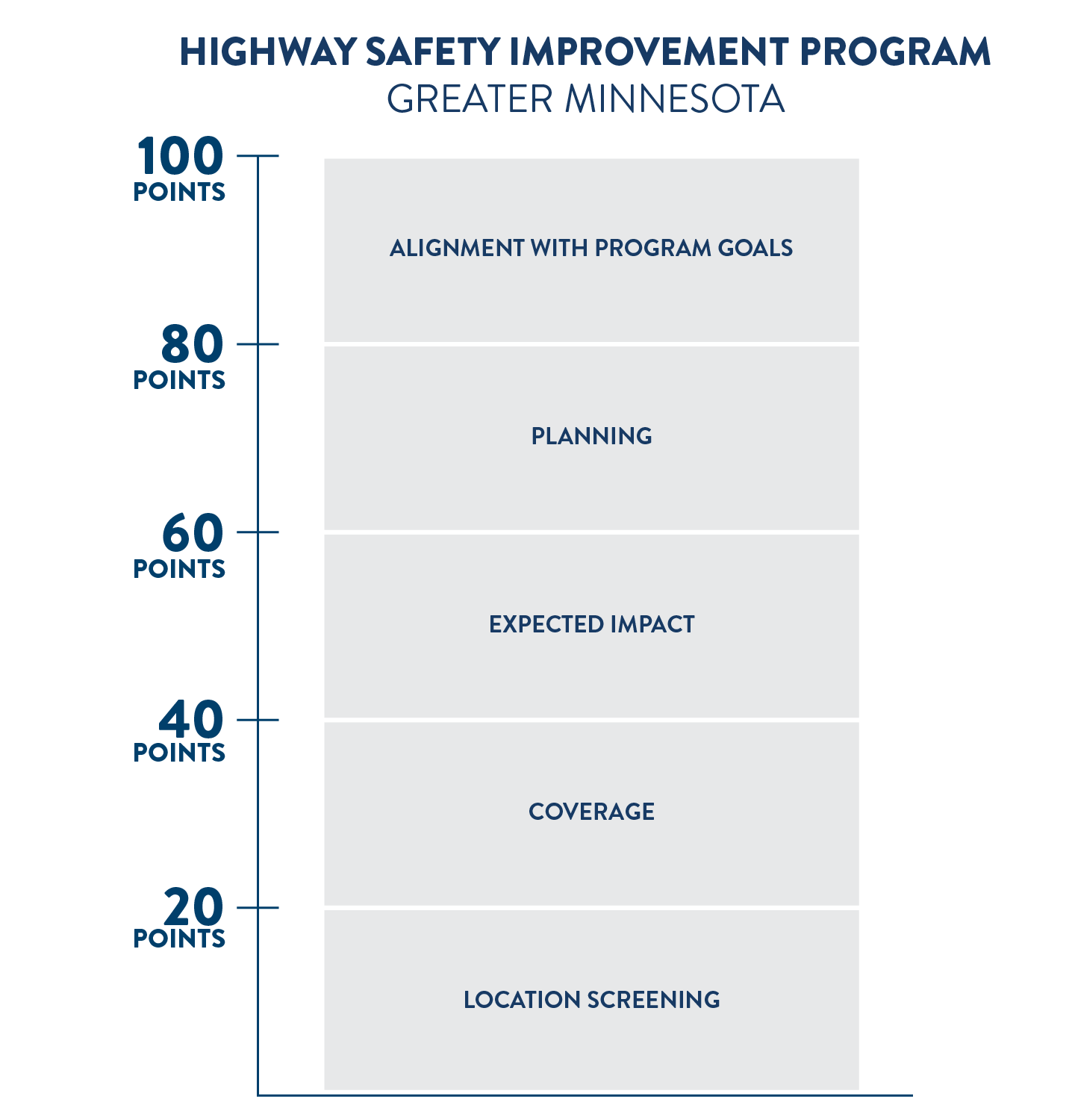 The Highway Safety Improvement Program (HSIP) funds cost effective construction projects that reduce fatalities and serious injuries on all public roads. In Greater Minnesota, MnDOT administers two HSIP programs: one focused on safety improvements to local roads and a second focused on safety improvements to state highways. The majority (60 percent) of HSIP funding goes to local roads. This page only applies to the state highway program.
Project proposals are solicited from MnDOT districts in two categories: proactive/systemic projects that address known risk factors and reactive projects that address a sustained crash location. Most projects are originally identified in a district or county safety plan or an analysis of fatal and serious injury crashes on the state highway network.
What's been selected?
Related links
How the projects scored
Below are the results of the latest round of HSIP announced in spring 2021. Projects needed to score at least 50 points to be considered for funding.
Last updated June 2022
| Project Score | District | Route | Year Planned | Description | Federal Total | Local match | Total Project Cost | Comments |
| --- | --- | --- | --- | --- | --- | --- | --- | --- |
| 98 | 1 | Districtwide | 2025 | Districtwide curve safety project | $500,000 | $100,000 | $600,000 | |
| 92 | 8 | Districtwide | 2024 | Districtwide intersection signing and pavement markings | $200,000 | $100,000 | $300,000 | |
| 90 | 3 | MN65 | 2023 | High Tension Cable median barrier on MN-65 from Anoka Line to County Road-43 | $1,400,000 | $200,000 | $1,600,000 | |
| 88 | 3 | US169 | CHIP Years | High Tension Cable median barrier on US-169 from County Road-74 to 257th Ave (S of Zimmerman) | $500,000 | $100,000 | $600,000 | OTE supports this project as targets/fund become available. It is unclear at this time what process may be needed: OTE will work is District to outline a process. There is a risk that fully funding the requested federal funds is not possible. |
| 86 | 3 | US10 | CHIP Years | High Tension Cable median barrier on US-10 from Staples to Motley | $1,100,000 | $200,000 | $1,300,000 | OTE supports this project as targets/fund become available. It is unclear at this time what process may be needed: OTE will work is District to outline a process. There is a risk that fully funding the requested federal funds is not possible. |
| 82 | 6 | MN19 | 2025 | Single lane roundabout at MN-19 at County Road -2 | $2,300,000 | $300,000 | $2,600,000 | |
| 81 | 2 | US75 | 2024 | Install roundabout at US-75 at County Road-21 | $1,400,000 | $200,000 | $1,600,000 | |
| 80 | 4 | Districtwide | 2023 | Districtwide reflective pavement markings | $500,000 | $100,000 | $600,000 | |
| 78 | 1 | MN37 | 2025 | Left turn lanes on MN-37 at County Road -137 (Spirit Lake Rd) in St Louis County | $300,000 | $100,000 | $400,000 | |
| 68 | 8 | MN19/MN30 | 2025 | Install automated speed curve warning systems | $400,000 | $100,000 | $500,000 | |
| 66 | 3 | US169/MN27 | CHIP Years | Roundabout with Aux Lane, Median Buffer at US-169 at MN-27 | $2,300,000 | $300,000 | $2,600,000 | OTE supports this project as targets/fund become available. It is unclear at this time what process may be needed: OTE will work is District to outline a process. There is a risk that fully funding the requested federal funds is not possible. |
| 65 | 7 | US14 | 2024 | Single lane roundabout at US-14 at N Highland Ave | $1,200,000 | $200,000 | $1,400,000 | |
| 65 | 7 | US15 | 2022/2023 | Restricted crossing U-turn (RCUT) in Eagle Lake | $0 | $0 | $0 | |
| 62 | 1 | US169 | 2025 | Reduced Conflict Intersection at US-169 at CSAH-25 | $500,000 | $100,000 | $600,000 | |
| 62 | 3 | US10 | CHIP Years | Reduced Conflict Intersection at US-10 at 7th St in Royalton | $900,000 | $100,000 | $1,000,000 | OTE supports this project as targets/fund become available. It is unclear at this time what process may be needed: OTE will work is District to outline a process. There is a risk that fully funding the requested federal funds is not possible. |
| 62 | 6 | US63 | CHIP Years | Single lane roundabout at TH-63 at CSAH-112 | $2,300,000 | $300,000 | $2,600,000 | OTE supports this project as targets/fund become available. It is unclear at this time what process may be needed: OTE will work is District to outline a process. There is a risk that fully funding the requested federal funds is not possible. |
| 60 | 3 | MN23 | 2025 | Compact roundabout at MN-23 at County Road-32 | $1,400,000 | $200,000 | $1,600,000 | |
| 58 | 3 | US169/MN20 | 2025 | Compact roundabout at US-169 at MN-200 | $900,000 | $100,000 | $1,000,000 | |
| 58 | 4 | US10 | 2024 | Reduced conflict intersection at US-10 at County Road-60 | $900,000 | $100,000 | $1,000,000 | |
| 58 | 6 | US63 | CHIP Years | Single lane roundabout at MN-63 at County Road-112 | $2,700,000 | $300,000 | $3,000,000 | OTE supports this project as targets/fund become available. It is unclear at this time what process may be needed: OTE will work is District to outline a process. There is a risk that fully funding the requested federal funds is not possible. |
| 55 | 3 | US169 | 2025 | Reduced Conflict Intersection at US-169 at CSAH-8 | $900,000 | $100,000 | $1,000,000 | Fund projects 50+ as funds available. |
| 55 | 8 | MN7 | Not selected | Left turn lanes on MN-7 at Omega Ave | $0 | $0 | $0 | Funding limitations raised questions of (1) complete existing safety study, and (2) potential for low-cost solutions |
| 54 | 1 | US169/MN20 | 2025 | Compact roundabout at US-169 at MN-200 | $900,000 | $100,000 | $1,000,000 | Fund projects 50+ as funds available. |
| 54 | 6 | MN44/MN76 | CHIP Years | Single lane roundabout at MN-44 at MN-76 | $3,000,000 | $400,000 | $3,400,000 | OTE supports this project as targets/fund become available. It is unclear at this time what process may be needed: OTE will work is District to outline a process. There is a risk that fully funding the requested federal funds is not possible. |
| 52 | 8 | US71 | 2025 | Left turn lanes on US-71 at County Road-3 | $800,000 | $100,000 | $900,000 | Fund projects 50+ as funds available. |
| 50 | 6 | MN65 | CHIP Years | Partial multi-lane roundabout at MN-65 at Prospect Ave | $2,500,000 | $300,000 | $2,800,000 | OTE supports this project as targets/fund become available. It is unclear at this time what process may be needed: OTE will work is District to outline a process. There is a risk that fully funding the requested federal funds is not possible. |
| 48 | 8 | US12 | Not selected | Offset right turn lanes on US-12 at County Road-34 | $0 | $0 | $0 | Unclear effectiveness of countermeasure |
Previous years