The Passenger Rail Transportation Forum is on hiatus until future funding.
About
MnDOT adopted a Comprehensive Statewide Freight and Passenger Rail Plan in February 2010. The plan was mandated by the 2008 Minnesota Legislature (Chapter 350, Article 1, Section 66, Subdivision 1be) and is a prerequisite for participation in federal funding.
Stakeholders need to remain collectively aware of ongoing passenger rail initiatives and be responsive to immediate funding opportunities. MnDOT established a group called the Intercity Passenger Rail Transportation Forum to advise them on how to keep those or other projects underway while the state rail plan is prepared. This forum is separate from the Policy and Technical Advisory Committee established by the State Rail Plan, though it has some common membership.
Purpose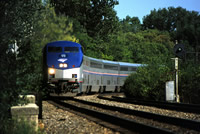 Recommend and coordinate projects, through a consensus process, for which MnDOT should seek funding through the Federal Railroad Administration's state-level programs while a comprehensive statewide freight and passenger rail plan is being developed, and
Advise the Commissioner of Transportation in an ongoing process on implementation of the comprehensive statewide freight and passenger rail plan.
More about passenger rail