NRRA Newsletter
Concrete with fiber and chip seal over cold central plant recycling
---
Hot mix overlays and the use of HMA Interlayer: the solution in the middle
Every engineer, both state and county engineers, face the challenge of rehabilitating large sections of concrete roads on a budget. These older roads are not just suffering from poor ride quality, they are also very expensive to completely replace. And did we mention reflective cracking from the concrete joints?
Enter the HMA interlayer. This is a paving solution where a specially mixed interlayer of HMA is put down and then paved over with a thin lift of regular HMA. In terms of rehabilitation, says Andy Cascione, Asphalt technical representative for Flint Hills Resources, this solution shows a lot of promise.
What makes the interlayer special is the mix. Cascione explains that it typically includes very fine aggregates (4.75mm), a high percentage of asphalt (8-9 percent) and low air voids.
MnROAD is testing right now
Interlayers have been in use for a long time, and everyone has their own specifications for the mix. What's different this time is the spec for this new interlayer was developed by a consensus of NRRA members, and it will be installed in a test cell this fall at MnROAD. The hope is that if this mix design performs well—especially in cold winters—it will give confidence to both state DOTs and contractors to implement this solution more often.
Experience in Iowa and Wisconsin
The mix we are testing at MnROAD, explains Cascione, is very similar to the interlayer his company has been using in Iowa and Wisconsin. They have been installing these for about three years with good results. An article from the Asphalt Paving Association of Iowa describes some of their experience with this pavement treatment.
A unique performance test
Getting the mix right, as you might guess, is very important, explains Cascione. Also key is making sure that mix design that works in the lab is exactly the same as the one being used in the field.
In addition to a volumetric specification, there is a performance based spec for this interlayer mix. And it's not a typical performance test. It uses the four-point bending beam test, says Cascione, which involves creating a beam, about 18 inches long by 2 inches wide, of the mixture. Then that bar is put into a temperature controlled chamber and put under stress. What's different about this test is that it puts a cyclical load on the sample, not an axial load. That kind of load replicates more closely what we would see in the field.
Not too many DOTs have the testing equipment to do the four-point bending beam test, so this is one barrier to implementing this new interlayer mixture, says Cascione. California actually developed this test, so Caltrans is very familiar with it and has been using it for years. For most Midwestern states, however, this is a very new test.
In the end, says Cascione, the combination of volumetric and performance testing should give state DOTs more confidence in this pavement approach. That will help them when they are making decisions about pavement where reflective cracking is likely to occur. The work at MnROAD on this should also create a specification that all agencies can use when they are reconstructing concrete roads with this new HMA interlayer.
---
NRRA Grand Opening: MnROAD, Oct. 10
We will be having a Grand Opening for the NRRA to honor the first year of NRRA-sponsored construction at MnROAD on October 10 at 10:30 a.m. at MnROAD.
We are honored and excited to have U.S. Congressman Tom Emmer as our guest at this event, as well as MnDOT leadership including Commissioner Charlie Zelle.
It will feature tours of the recent construction, a lunch provided by NRRA and a chance to see some of the equipment we use at MnROAD.
This open house is open to members and non members of the NRRA. Please RSVP with the number of guests by Oct. 4.
---
NRRA Welcomes New Members
Help us welcome a new Associate Member Helix. It's representative will be on the Tech Transfer Team and the Rigid Team.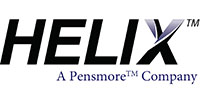 ---
MnROAD Weekly Construction Updates
We are winding down the summer construction season at MnROAD, but you did not miss a thing because we have an archive of weekly updates. The updates describe each week with photos, updated schedules and videos.
---
High Friction Surface Treatments: National Perspective
Applying a high friction surface to a road is an excellent way to reduce run-off-the-road crashes, especially on wet pavement. Research bears this out – Pennsylvania saw a 100 percent crash reduction in its trial project. One NRRA member that has had success in using high friction surfaces is the Wisconsin Department of Transportation (WisDOT).
The catalyst for WisDOT embarking on this journey came from a vendor demo of the product, Italigrip. Peter Kemp, Pavement Unit Supervisor for WisDOT, says the demo impressed them enough to give it a try. The FHWA already had done a great deal of homework on this issue, so WisDOT consulted with that organization about best practices, case studies and more.
Here are some lessons they have learned along the way that can help you make decisions about this pavement treatment and how it might be used in your agency.
Consult with your safety engineers
Maybe it goes without saying that placement of these surfaces—often on sharp curves in the roadways—depended heavily on WisDOT's safety engineer's analysis. Their crash data is the primary mover in deciding the places and priorities for installing high friction surface treatments. This is another tool for their safety efforts.
WisDOT's first HFST safety project was on a ramp on the Marquette Interchange in downtown Milwaukee. This ramp had a bad reputation and was often closed when conditions deteriorated. The ramp had an average of 79 crashes per year for a 3-year period. After the treatment, crashes reduced to two in the first year. Stacey Pierce, a safety engineer for WisDOT, said "I've never seen anything like it. It's made us more aggressive now in applying the technology on other pavements that exhibit similar problems." (Crossroads newsletter, 2014)
Use it judiciously
High friction surfaces are not something you would use on a whole stretch of road. Although a more cost effective option then geometric changes, the products are rather expensive, so making careful decisions about where to use them is important. That said, when you look at the fatality statistics about run-off-the-road crashes, it can be an easy decision if you have the data to back it up.
Materials and Construction Practices Matter
Follow the manufacturer's recommendations for placement. The depth of embedment, proper timing of application and curing all work together for a successful treatment. Aggregates are the obvious source of the friction.  Calcined Bauxite has been shown as the front runner in both initial and subsequent Fn40 friction numbers. AASHTO's and Wisconsin's HFST specifications require calcined bauxite as the HFST aggregate.
Preservation and safety are separate
Friction surfaces on bridge structures and HFST on roadways are different. The systems and configurations that work on bridge structures are not the same. Make sure you are applying the proper system for your needs.
---
October Research Pays Off
October 17--Validated Intelligent Compaction (VIC) Testing at MnROAD and Engineering Data Analysis, David J. White, Ph.D., P.E. President and Chief Engineer, Ingios Geotechnics, Inc.
This presentation will describe the VIC test results for selected cells construction as part of the 2017 MnROAD low volume road reconstruction project. The compaction measurement values were studied with independent automated plate load test (APLT) measurements in terms of resilient modulus. A summary of key findings from each test cell will be presented. Following the discussion of VIC and APLT data, a framework for managing and reporting the VIC will be introduced using a new customizable dashboard system.
Please join us for Research Pays Off on October 17 at 10 a.m. (CDT).
As always, we are eager to hear from you about future topics for this webinar series.
If you missed the webinar on rejuvenators and bio-sealants with Debaroti Ghosh, you can see it here.
---
Follow NRRA on