Public involvement
MnDOT worked with the City of Crookston for this locally led study of the downtown corridor and there were many opportunities to take part in the planning study.
Previously Held Meetings
The first public open house was held on Monday, Nov. 15, from 6 - 7:30 pm at Crookston City Hall
A second open house was held on Tuesday, May 24 from 5:30 - 7:00 p.m. at Crookston City Hall
The city council reviewed and approved the recommended alternative and associated improvements on Sept. 12.
to Highway 2 and show how the corridor could look in the future through downtown Crookston. The presentation will be held during the scheduled City Council Meeting.
Online
Submit a comment
Just have a question or comment to share? Submit your comment online.
Stay up to date
Sign up for email updates
Community Review Panel
In order to work more closely with the community; local leaders, residents and business owners will work directly with project staff throughout the study. This partnership allows for a direct connection to the community through a transparent and collaborative process. The committee will help to identify the current issues and create a local vision for the corridor. These neighborhood leaders will help ensure that community values are represented in the development and evaluation of project alternatives, while fostering conversations within the community.
Corridor Study Process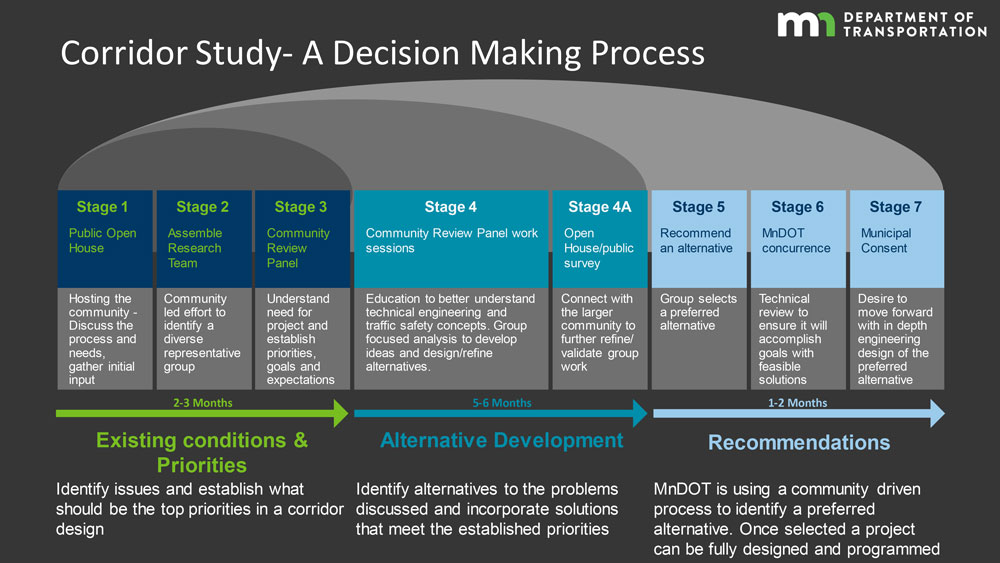 An in-depth study take time
The year-long process wrapped up in the fall of 2022. As the study progressed, it moved through a few different phases
Existing Conditions and Priorities

Project study kick off
Assemble the study committee members to form a Community Review Panel
Establish priorities and identify existing issues

Alternative Development

Community Panel examines issues and alternatives
Public meeting to share progress and results

Recommendations

Panel recommends an alternative to City Council
City Council recommends an alternative to MnDOT
MnDOT evaluates/approves City recommendation

Program and Design

Once an alternative vision is selected it can move into the detail design phase and be programmed for funding