About the project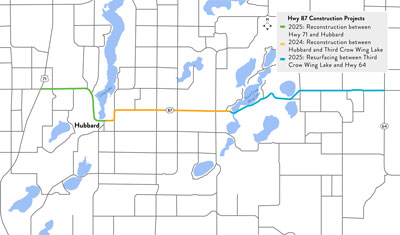 Construction on Hwy 87 between Hwy 71 and Hwy 64 will take place in 2024 and 2025. It is split into 3 different sections, and each one has their own fix.
The center portion will take place in 2024, and the western/eastern sides in 2025.
Open House October 4, 2023
MnDOT will host an open house on Wednesday, October 4 about the 2024 and 2025 construction projects on Highway 87. The open house will be held at the Hubbard Community Center (12141 County 6) from 5 p.m. to 7 p.m. Project information as well as detour maps will be on display. Members of the public are welcome to attend and ask questions about the upcoming projects.