Three-Lane Roadway/Road Diet/Four to Three Lane Conversion
What is a three-lane roadway or road diet?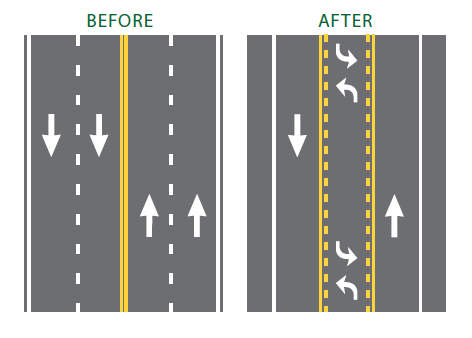 A three-lane roadway or road diet means converting a four lane undivided road into a three-lane undivided road that consists of two through traffic lanes and a two-way left-turn lane (TWLTL) in the center.
Many state transportation departments, cities and counties in small communities and large cities are taking advantage of this design because of the proven safety benefit when compared to four-lane undivided highways.This can be a low-cost safety solution when only pavement marking changes are needed.
Benefits include:
crash reduction
fewer rear-end and left-turn crashes
fewer lanes for people walking to cross
provides space for bicycle lanes, street parking, bus stops, curb extensions or other uses
simplifies left turns from side streets
smoother traffic flow
less lane switching
when done as part of a reconstruction there are many positive uses for the space created
Documents
Case studies in Minnesota
Examples in Minnesota
Bass Lake Road, Brooklyn Center/Crystal
Hwy 2 in Floodwood
Hwy 7 in Silver Lake
Hwy 19/Bridge Street, in Redwood Falls
86th Street and 90th Street in Bloomington
Hwy 61 in Two Harbors
Hwy 10 in Wadena