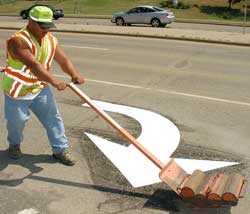 The Transportation Traffic Engineering Manual is a solely electronic publication that is updates twice each year.
Downloading the files
PDF of the current and older versions are below.
First download and print the Table of Contents help find the chapter you need.
The subject index will help locate specific information.
Updates: To receive updates and revisions, please subscribe to Publication Update Notification. Printed versions are not being distributed.
Chapters

2009 Version

Cover Letter, Table of Contents and Abbreviations
Chapter 1 - General
Chapter 2 - Traffic Laws
Chapter 3 - Freeway Corridor Traffic Management
Chapter 4 - Traffic Engineering Research
Chapter 5 - Data Collection
Chapter 6 -Traffic Signs - Figures, Forms and Tables
Chapter 7 - Markings and Delineation
Chapter 8 - Work Zone Traffic Controls
Chapter 9 - Traffic Signals
Chapter 10 - Lighting of Traffic Facilities
Chapter 11 - Traffic Crash Surveillance
Chapter 12 - Tort Claims
Chapter 13 - Miscellaneous Traffic Items
Index