Reduced Conflict Intersections
What are they?
Reduced Conflict Intersections are intersections that decrease fatalities and injuries caused by broadside crashes on four-lane divided highways. In some parts of the country, RCIs are sometimes referred to as J-turns or RCUTs.
Why do they work?
With an RCI, drivers from the side street only have to be concerned with one direction of traffic on the highway at a time. You don't need to wait for a gap in both directions to cross a major road. Traditional four-lane divided highway intersections have an elevated risk of severe right-angle crashes (commonly called "T-bone" crashes), especially for drivers attempting to cross all four lanes of traffic or turn left. At a traditional intersection, motorists from the side street need to look in both directions to cross a four-lane divided highway. Left turns require the same level of attention.
How do they work?
In an RCI, drivers always make a right turn, followed by a U-turn. Motorists approaching divided highways from a side street are not allowed to make left turns or cross traffic; instead, they are required to turn right onto the highway and then make a U-turn at a designated median opening. This reduces potential conflict points and increases safety. Generally, the delay caused by a signal is greater than the delay caused by the RCI.


Where in Minnesota are they located?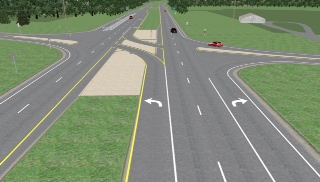 Old Hwy 71 and County Rd. 24, Willmar
Hwy 212 and Hwy 284, Cologne
Hwy 65 (143rd, 153rd, 157th, 169th, 181st,187th), Anoka County
Hwy 53 and County Rd. 52, Cotton
Hwy 36 and Demontreville Trail, Lake Elmo
Hwy 169 (Hwy 22, St. Julien St.) Saint Peter
Hwy 169 (CSAH 59, Minnesota's Largest Candy Store) Jordan
Hwy 169 (Scott CSAH 59 and LeSeuer CSAH 28)
New Hwy 371 and County Rd. 168/107, Pequot Lakes
Old Hwy 371 and County Rd. 112, Pequot Lakes
Hwy 23 (Saratoga Street, CSAH 7, Lyon Street), Marshall
US 52 (180th, 190th, 200th, 210th, 215th, Fischer)
US 14 and CSAH 17, Eagle Lake
US 61 (Hwy 60, Shields, CSAH 30)
US 2 and CSAH 75, Cass Lake
Hwy 60 and Jackson CSAH 9, Heron Lake
Hwy 65 and Viking Boulevard (Signalized)
MnDOT is planning and studying locations for additional RCIs across Minnesota in the years to come. Please contact us to find out more.