Composite Pavement Systems (SHRP2)
While asphalt overlays over PCC are commonly used to rehabilitate a pavement, the use of a high-quality asphalt concrete layer(s) over a new concrete layer is rare. This technique has great potential to provide a long-lasting pavement needing minimal maintenance.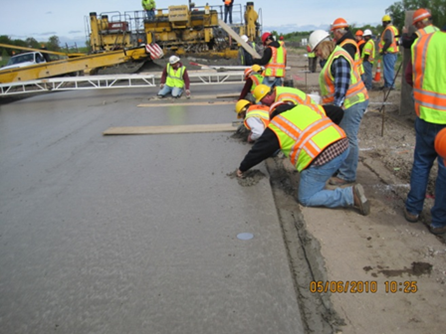 The concrete substructure provides a durable, strong, long-lasting base, while the asphalt concrete provides a rapidly renewable riding surface as well as protective layer from salts and other harmful substances to concrete. Additionally, the asphalt surface provides performance in terms of acceptable friction, noise reduction, improved ride quality, and reduced splash and spray. Another promising strategy in the construction of new pavements is the use of a relatively thin, high-quality concrete surface atop a thicker, less expensive concrete layer. The lower concrete layer may include high proportions of recycled or substandard materials that are not suitable for use in the surface layer. Construction may be accelerated by placing the concrete surface layer on top of the other concrete layer before that layer has set to facilitate an excellent bond between the two layers of concrete; this construction technique has led to use of the term "wet on wet" concrete.
While many transportation agencies may have performance data and design methods for conventional pavement systems (flexible and rigid), the behavior of new composite pavements is not well understood. This project will develop performance models of these hybrid systems that are needed for design, performance prediction, and life-cycle cost analysis. Guidance on specifications, construction techniques and quality management procedures will also be provided to the transportation community.
Work Plans
Reports & Publications
Presentations
Links