Study complete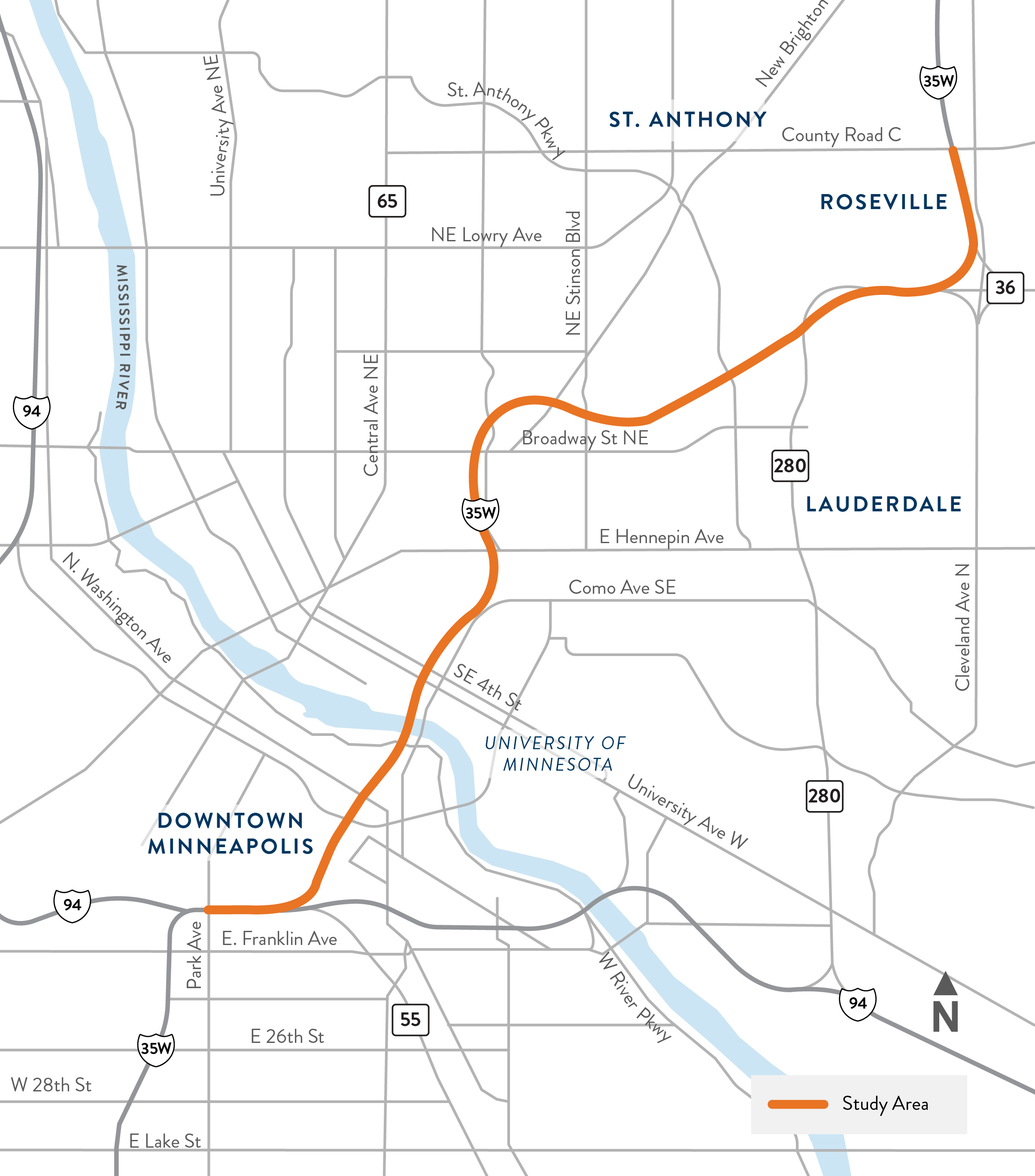 About this study
We completed our evaluation of I-35W between Park Ave. in Minneapolis and Co. Rd. C in Roseville in 2023.
The purpose of the I-35W North Gateway study was to develop a long-term solution for all people who use this stretch of freeway, whether they travel by vehicle, haul freight, or cross the highway on foot or by bicycle. The study evaluated the condition of bridges, pavement and interchanges, as well as congestion along the route. Also included in the study was input from nearby communities on their needs related to transportation and safety. The goal of the study was to identify transportation opportunities along the freeway to implement in the future.
Study conclusion
Through an extensive technical analysis, it became apparent that several of the key metrics needed to be re-evaluated post COVID-19 pandemic. Instead of continuing with the study process, the project team decided to document the current work in a report. The report will be used to inform future area projects, though nothing has been scheduled for construction at this time.
The final report includes the results of the project team's technical analysis and what was learned through the public engagement process. To receive a copy of the study report, please email us.
What comes next
We are actively planning improvement projects in and near the I-35W study area. When projects are identified, future project teams will use the study report to guide their planning and development.
Anticipated upcoming projects that will build on the I-35W North Gateway study include:
Studying long-range Hwy 36 improvements in Roseville, Little Canada and Maplewood for people traveling by vehicle or hauling freight, as well as those crossing the highway on foot or by bicycle
Increasing the functionality of University Ave. and SE 4th St. from Central Ave. to I-35W
Reconstructing all bridges within the I-35W North Gateway study limits by 2040. This includes redesigning the space for vehicles and people walking and bicycling to provide consistently safe and comfortable crossings of I-35W

University Ave. and SE 4th St. over I-35W in Minneapolis will be the first bridges to be reconstructed