Geodetic Monument Viewer
For questions or to provide feedback, please use information in the Contacts tab above.
Instructions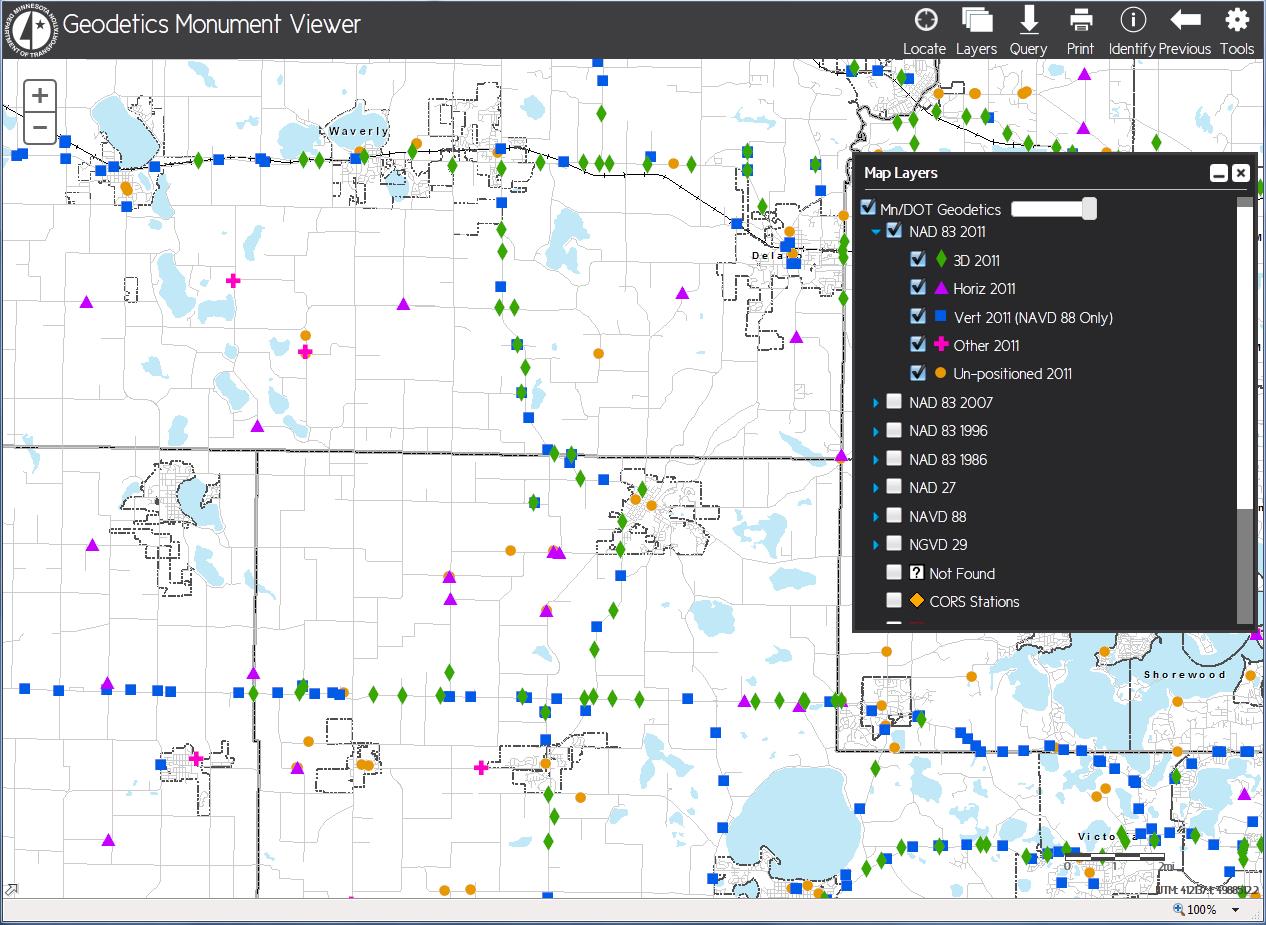 For detailed instructions and Geodetic Layer definitions, see Help document found in the application toolbar under Tools --> Help.
Navigate to locations using zoom buttons in the upper left corner (or, if you are a mouse user, the mouse wheel). Mouse users may also hold the left button to pan the map.
Zoom directly to locations by using different options in the Find tool.
Display geodetic monuments by choosing the relevant MnDOT Geodetics layers under the Layers tab.
Display geodetic monument datasheets by first choosing the Datasheet tool, then selecting a geodetic monument symbol, and finally on the link in the information box.
Many layers are scale-dependent and will not appear until the map is zoomed in far enough.
Expand the Basemap Layers - Interactive section, found under the Layers tab, for access to many additional layers.
User tips
Printing and pop-up blocking
Pop-up blocking will need to be disabled in order to print any maps and use other features available on this site. You can also add this site to your list of sites where pop ups are allowed:
In Internet Explorer, go to tools, Pop-up Blocker Settings and add gismaps.dot.state.mn.us. Click add and close.
Viewing the Interactive GIS map
This map is best viewed at a screen resolution of 1024 * 768 or higher with colors set to thousands or higher. You may encounter problems if you try to stretch the image onto two or more computer screens.
This application is recommended for use with Internet Explorer versions 9, 10 or 11. You may experience problems using other browsers.
Mobile users: This application does not currently support mobile device use. We are hoping to be able to offer a mobile-friendly solution in the near future.
Common GIS layers
Roads, railroads, airport runways, navigable waters, state boundary, county boundaries, municipal boundaries, MnDOT Districts, civil boundaries, township boundaries, state parks, military reservations, indian reservation land, national forests, national parks, streams, lakes
Geodetic-specific layers
Geodetic Monuments
CORS Stations