About the bridge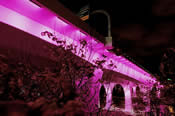 Aesthetic lighting replacement project
Oct. 9 to Dec. 15, 2017
The aesthetic lighting on the I-35W bridge will be turned off, including regularly scheduled special occasions. Expect temporary closures from late October to late November.
Features
Awards
I-35W bridge replacement wins America's Transportation Awards' Grand Prize (Oct. 30, 2009)
I-35W bridge replacement named one of America's 10 best transportation projects (Sept. 11, 2009)
Design
Residents, business and community members, representatives from the parks, preservation and arts communities, and various elected and appointed officials from local, state and federal governments voted on aspects of the bridge design including pier shape, lighting and color.