Traffic impacts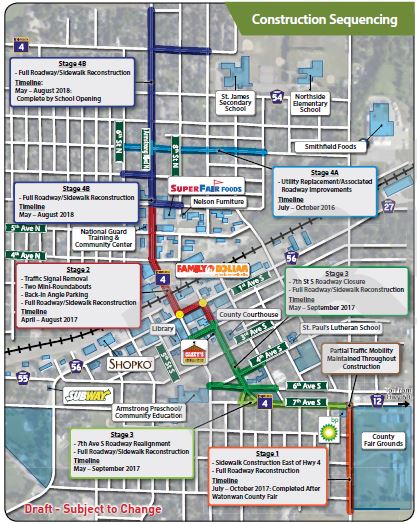 A short and brief detour on the 7th Street section of Highway 4 in St. James will be needed beginning Monday, September 17 as a few concrete panel replacements and repair work will take place. Motorists will be signed to continue on 11th Street to 1st Avenue for about 5 days.

Work on Highway 4 in St. James resumed April 30, 2018.
The 2018 work requires a detour consisting of Watonwan County Road 56 (1st Avenue), Watonwan County Road 55 and Highway 4. The project detour for 2018 begins downtown and then follows the 2017 detour route to the north.

2018 project work includes the completion of concrete pedestrian ramp and sidewalk that didn't get completed in 2017, along with street and utility reconstruction north of 8th Avenue North in St. James. Permanent lane markings will be placed in 2018 and boulevard trees will also be planted.