About this project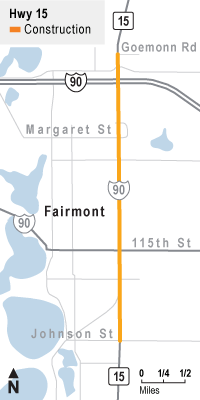 Temporary deactivation of traffic signal on Highway 15 in Fairmont at Winnebago Ave.
Highway 15 motorists in Fairmont should expect the traffic signal at Winnebago Ave. and Highway 15 to be deactivated and become a four-way stop starting Tuesday, September 19 through Friday, September 22 as crews work to upgrade the signal system. The signals on Highway 15 are being updated to include new lights, flashing yellow arrows and emergency vehicle preemption. 
Starting the week of September 18th, crews will begin milling off a layer of the existing roadway surface. Motorists should take extra caution and be on the lookout for changing traffic patterns as there will be additional workers and equipment on the roadway during the milling and paving operations to resurface the roadway.
Drivers can expect lane restrictions and brief traffic delays through Fairmont as crews begin the roadway milling and paving work to resurface the roadway and as they continue sidewalk, driveway and curb work.
Summary of work
Pavement improvements, resurfacing
Refurbish or replace traffic signals, and upgrade signals to flashing yellow arrow
Update traffic signals to include accessible pedestrian systems
Update pedestrian ramps to meet ADA requirements
Remove and replace sections of poor sidewalk and curb and gutter
Perform spot repairs of the existing storm sewer lines
Timeline
2013 - Project scoping initiated
2014 - Preliminary investigation of existing pavement, preliminary design and project coordination
2015 - Collect locations of in-place utilities and complete project mapping, detailed project design, identify easements and construction limits
2016 - Complete final design and obtain needed easements
2017 - Advertise for bids spring of 2017
2017 - Begin construction July 2017
2017 - End construction, late fall 2017
2017 Traffic impacts
Watch for lane closures and traffic shifting to single lanes.
Brief traffic delays may occur at intersections along the project to complete the work.
Expect brief, in-town detour for storm sewer work.
This project will be coordinated with adjacent construction taking place on I-90 between Sherburn and Fairmont as well as work the City has planned for Margaret Street.

Business access will be maintained throughout the Hwy 15 project. Find out more about the Fairmont Chamber's effort to survive the construction on both I-90 and Highway 15 visit http://fairmontchamber.org/