Traffic impacts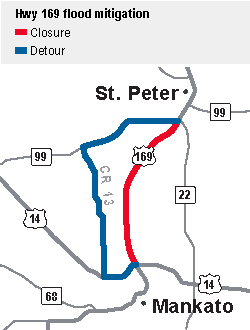 Construction update
Despites the storms, construction is still going strong. See new aerial project photos and videos courtesy of Jon Smithers as construction steadily moves forward on this project that has been doused with plenty of rain. Thanks for sharing, Jon!
PLEASE DO NOT TRAVEL ON A CLOSED ROAD: Concrete does not equal an open road. Continue to observe traffic control signs. We still have a long way to go to get finished and anyone taking a tour is slowing up the progress and creating a hazardous situation.
Check out what has been happening the past few weeks:
Detour
Through October
This project requires us to close Hwy 169 from Mankato to St. Peter. The narrow terrain between the bluff and the Minnesota River rebuilding the road under traffic in one season and carrying two-way traffic comes with other safety issues.
Detour route (PDF) is Nicollet County Rd 13/Hwy 99 with Hwy 22 as an alternate route. We've completed safety improvements to each of these routes in anticipation of added traffic. For more info - watch video below.
CLOSED: 7 Mile Creek Park
OPEN: Kiwanis Recreation Area, Hwy 169 businesses open (Happy Chef, Super 8 Motel, Riverbend Rental - WACO Scaffolding, BP Station)
Local access only map (PDF)
Construction segment map (PDF)