Traffic impacts
Highway 169 Mankato to St. Peter partial opening Thursday, Aug. 25
Lanes restricted, speeds reduced, caution advised
The detour for Highway 169 between Mankato and St. Peter will be removed around 9 a.m. on Thursday, Aug. 25.  .  Highway 169 will carry one lane of traffic each way in the outside lanes with a 55 mph speed limit.
Motorists must use caution as the inside lanes will be closed with workers present and construction vehicles entering and exiting the open lanes. MnDOT has retained extra law enforcement and advises motorists to refrain from gawking to keep traffic moving safely.
Work remaining includes construction of the concrete intersection crossings, concrete median, left turn lanes, high tension guardrail and raised concrete barrier. 
Only the following Highway 169 intersections will open at this time:
Hiniker Saw Mill
Old River Bluff Road (south end)
492nd Street
381st Street
367th Avenue
Freeman Drive
Washington Avenue
7 Mile County Park remains closed until the completion of the flood mitigation project in mid-October.
Traffic control on the detour (Hwy 99, CR 13) will have the temporary signals deactivated and previous conditions restored:
Nicollet County Road 13 (Lookout Drive) Howard Drive intersection –  returned to four-way stop
Westbound Highway 99/CR 13 (left turn lane removed)
Highway 99/CR 333 (Shepard Road) intersection – returned to two-way stop
Traffic control on Highway 22 will remain as is until traffic returns to normal.
Detour Information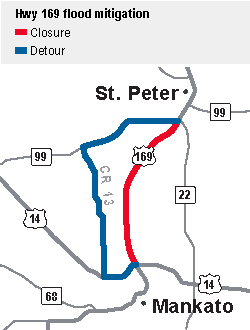 Click map for PDF detour route.
This project requires us to close Hwy 169 from Mankato to St. Peter. The narrow terrain between the bluff and the Minnesota River rebuilding the road under traffic in one season and carrying two-way traffic comes with other safety issues.
Detour route (PDF) is Nicollet County Rd 13/Hwy 99 with Hwy 22 as an alternate route. We've completed safety improvements to each of these routes in anticipation of added traffic. For more info - watch video below.
CLOSED: 7 Mile Creek Park
OPEN: Kiwanis Recreation Area, Hwy 169 businesses open (Happy Chef, Super 8 Motel, Riverbend Rental - WACO Scaffolding, BP Station)
Local access only map (PDF) - Local access phone line will close on Sept. 9
Construction segment map (PDF)