About this project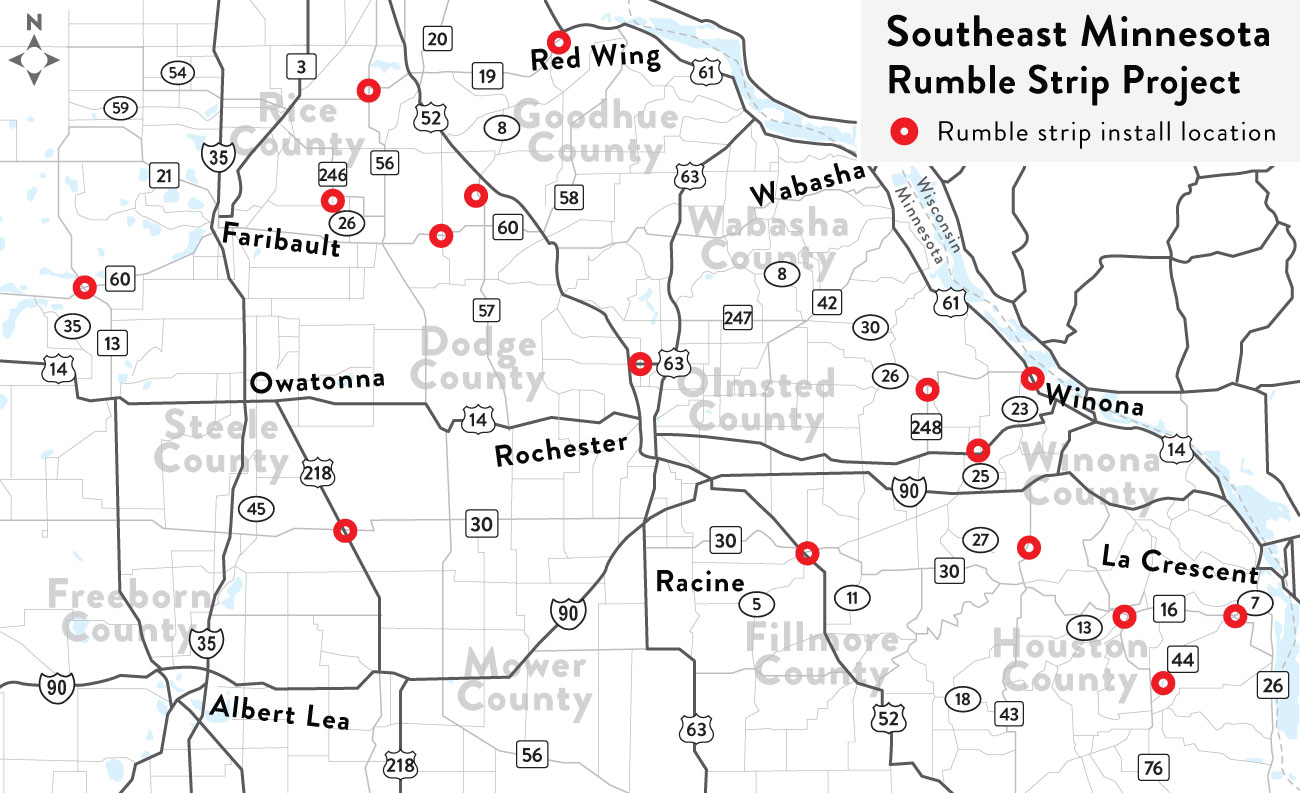 Update
Installation of rumble strips occurred on the following roads Oct. 4-8, 2021:
Hwy 60: 0.2 miles east of Hwy 13 to 0.9 miles west of Interstate 35, Le Sueur and Rice counties
Hwy 19: Rice Co. Rd. 54 to 1.0 miles west of Rice Co. Rd. 59, Rice County
Hwy 19: 1.4 miles east of Goodhue Co. Rd. 20 to Hwy 61, Goodhue County
Hwy 246: 0.3 miles east of Rice Co. Rd. 26 to Hwy 56, Rice and Goodhue counties
Hwy 60: Hwy 56 to Hwy 52, Goodhue County
Hwy 57: 0.1 miles north of Goodhue Co. Rd. 30 to Goodhue Co. Rd. 8, Goodhue County
Summary of work
Installation of rumble strips will occur in various locations across southeast Minnesota.
Rumble strips are grooves or rows of indents in the pavement designed to alert inattentive drivers through noise and vibration and reduce the number of crashes. Find more information about rumble strips.
Rumble strip project locations
| Road | Location | County | Status |
| --- | --- | --- | --- |
| Hwy 14 | 0.7 miles east of CSAH 23 to 1.1 miles west of Hwy 61 | Winona | Schedule TBD |
| Hwy 14 | CSAH 25 to 0.2 miles west of CSAH 23 | Winona | Schedule TBD |
| Hwy 218 | 0.5 miles north of CSAH 45 to 1.1 miles south of Hwy 30 | Mower, Dodge | Schedule TBD |
| Hwy 248 | CSAH 26 to Hwy 61 | Winona | Schedule TBD |
| Hwy 16 | 0.2 miles north of CSAH 7 to 0.2 miles south of TH 26 | Houston | Schedule TBD |
| Hwy 63 | 0.6 miles east of Hwy 52 to 0.2 miles west of CSAH 33 | Olmsted | Schedule TBD |
| Hwy 52 | 0.2 miles north of CSAH 11 to 1.1 miles south of CSAH 5 | Fillmore | Schedule TBD |
| Hwy 44 | 0.2 miles north of Hwy 76 to 0.9 miles south of CSAH 18 | Houston | Schedule TBD |
| Hwy 43 | 0.5 miles south of CSAH 27 to Hwy 90 | Fillmore, Winona | Schedule TBD |
| Hwy 16 | 0.6 miles east of CSAH 13 to 1.4 miles west of Hwy 44 | Houston | Schedule TBD |
| Hwy 60 | 0.2 miles east of Hwy 13 to 0.9 miles west of I-35 | Le Sueur, Rice | Week of Oct. 4 |
| Hwy 19 | Co. Rd. 54 to 1.0 miles west of Co. Rd. 59 | Rice | Week of Oct. 4 |
| Hwy 19 | 1.4 miles east of CSAH 20 to Hwy 61 | Goodhue | Week of Oct. 4 |
| Hwy 246 | 0.3 miles east of CSAH 26 to Hwy 56 | Rice, Goodhue | Week of Oct. 4 |
| Hwy 60 | Hwy 56 to Hwy 52 | Goodhue | Week of Oct. 4 |
| Hwy 57 | 0.1 miles north of CSAH 30 to CSAH 8 | Goodhue | Week of Oct. 4 |