Sign up for project email updates
Update
Thank you to the more than 50 people who turned out to the June 22 open house for the project and asked some great questions about it. If you were unable to attend or would like to look at the information again, please follow this link to the display boards provided during the meeting. If you have questions, please contact us and we'd be happy to listen and discuss.
About this project
MnDOT plans to make changes to the I-90/Hwy 52 interchange to improve safety and reduce delays.
The main goals of the project are:
Decrease crashes, especially t-bone crashes which are more deadly

At this interchange, these crashes happen when a vehicle is making a left-hand turn

Reduce run-off-the-road crashes at ramps

These happen most often at westbound I-90 to northbound Hwy 52

Eliminate the line of vehicles waiting to turn from southbound Hwy 52 to eastbound I-90
Replace the I-90 bridges over Hwy 52
Proposed changes
The project team has considered many options and is proposing the below changes to the intersection.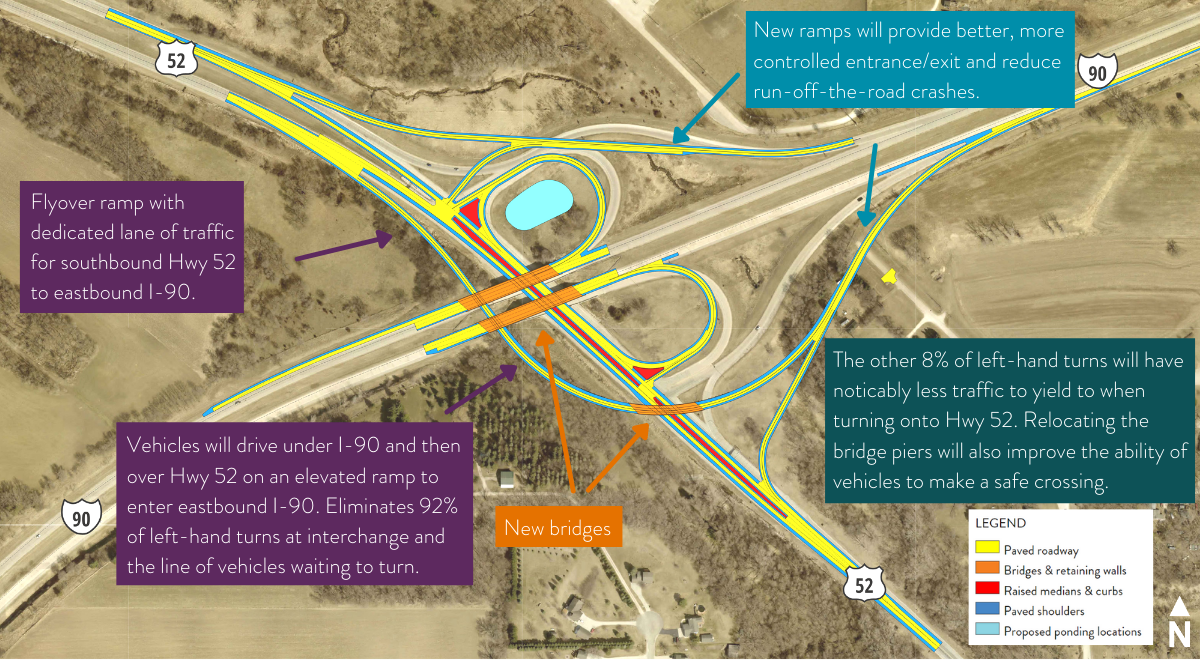 A new feature, a flyover ramp, for southbound Hwy 52 to eastbound I-90, will solve several problems:
New ramps will reduce the run-off-the-road crashes:
Changing the angles will allow for better, more controlled entrance/exit
Lengthened accelerations lanes will also improve conditions
The bridge replacements will allow for:
Relocation of the bridge piers that block the view of on-coming traffic
Improved bridges that will last another 60 years or more
Comments and feedback
The project team has considered many options and has chosen an alternative one that will achieve the project goals. Feedback is welcome and encouraged. A comment form is available on the comments tab. The project manager is also available for questions.