Americans with Disabilities Act (ADA)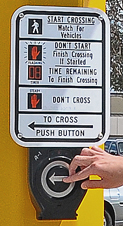 All MnDOT projects - both new construction and rehabilitation projects - must include evaluation to ensure compliance with the Americans with Disabilities Act. Read about MnDOT's transition plan to comply with the ADA.
Specifics for this project
This project includes a modification of the pedestrian/bicycle path adjacent to Hwy 75 near I-94 to accommodate the new interchange design. The latest proposal includes underpasses for pedestrians and bicyclists under the I-94 ramps. Curb cuts, truncated domes and accessible pedestrian signals will also be included in the new design.