Project details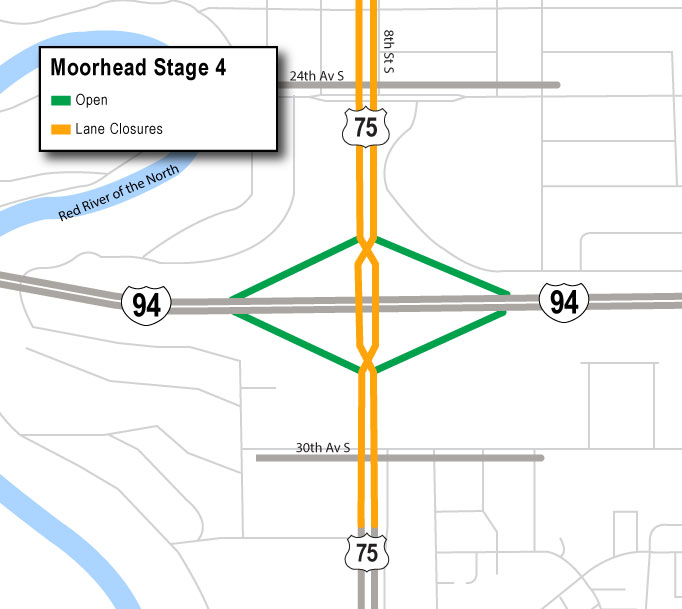 The Minnesota Department of Transportation is reconstructing the intersection of I-94 and Hwy 75/8th Street. In addition, auxiliary lanes (an additional lane in each direction) are being added on I-94 between Hwy 75/8th Street and 20th Street.
For the most up-to-date information on this project, sign up for project email alerts through the "Connect with us" section to the right or see latest news.
What will it look like when it's complete? See a project simulation.
Traffic Impacts
Northbound and Southbound Hwy 75/8th Street are open
All ramps are open
Intermittent lane closures on Hwy 75/8th St. will continue through mid- to late-October
For more details, check out the weekly update page
Construction Staging
The project will be constructed over the 2016 construction season. Some minor cleanup may be completed in 2017.
Detours
Detour map - From early June to mid- to late-August, Hwy 75/8th St. traffic will detour to 40th Ave S, 20th St S and 12th Ave S. The 34th St. interchange will be used for some traffic movements.
Cost estimate
Preferred alternative
MnDOT has selected a preferred interchange alternative, the Diverging Diamond Interchange (DDI) alternative. See the layout (PDF, 9 MB). The DDI best addressed the project purpose and need as well as stakeholder input. Also see a simulation of projected 2035 traffic volumes flowing through the DDI (MP4, 77 MB) or view a low-resolution version (17 MB WMV).
Additional Diverging Diamond Interchange links
Driving through a DDI (Video is from the St. Cloud diverging diamond at Hwy 15 and Stearns Co. Rd. 120) (34 MB)