Project details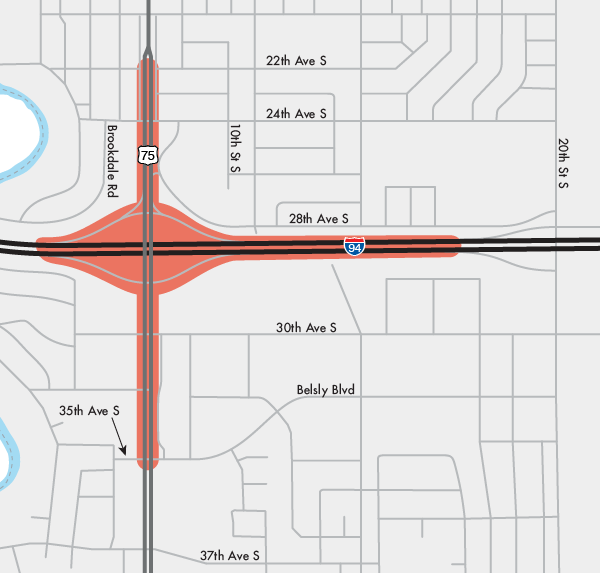 The Minnesota Department of Transportation plans to reconstruct the intersection of I-94 and Hwy 75. In addition, auxiliary lanes are planned on I-94 between Hwy 75 and 20th Street.
The project will be designed to improve mobility and safety through the interchange and reduce delays on both Hwy 75 and I-94.
The project is based on a June 2008 study on Hwy 75 and 20th Street in Moorhead. Click here to review the study (30 MB PDF)
Environment Assessment Worksheet
The Environmental Assessment Worksheet (EAW) for the Interstate 94/Highway 75 interchange area project in Moorhead is available for review and comment.
It provides information regarding the project's environmental setting, the potential for environmental impacts and proposed mitigation measures for potential environmental impacts. Click here for the full document (15 MB PDF). It will also be available to view during business hours at the following locations:
Minnesota Department of Transportation District 4, 1000 Highway 10 West, Detroit Lakes
Moorhead Public Library, 118 5th Street South, Moorhead
Fergus Falls Public Library, 205 East Hampton, Fergus Falls
Hennepin County Library, 300 Nicollet Mall, Minneapolis
A public hearing regarding the EAW will be held on June 16 from 5 to 7:30 p.m. at the Courtyard by Marriott Hotel and Conference Center, 1080 28th Avenue South, Moorhead, Minn.
Members of the public are welcome to share comments at the hearing or send them directly to the MnDOT project engineer.
The comment period for this project will run from May 25, 2015 through June 24, 2015.
Comments should be directed to:
Seth Yliniemi, MnDOT Project Engineer
1000 Highway 10 W
Detroit Lakes, MN 56501
218-846-3631
Seth.Yliniemi@state.mn.us
To request the document in an alternate format or to request an ASL or foreign language interpreter or other reasonable accommodation for the public hearing, please contact Janet Miller at 651-366-4720 or 1-800-657-3774 (Greater Minnesota), 711 or 1-800-627-3529 (Minnesota Relay). You also may send an email to ADArequest.dot@state.mn.us.
Timeline
Fall 2015 - Design complete
Fall 2015 - Constractor bids solicited
Spring 2016 - Construction begins
Summer 2017 - Construction ends
Project timeline graphic (1 MB PDF)
Cost estimate
$7 to $12 million (preliminary)
Preferred alternative
MnDOT has selected a preferred interchange alternative, the Diverging Diamond Interchange (DDI) alternative. (Click here for 9MB PDF of the layout.) The DDI best addressed the project purpose and need as well as stakeholder input. A simulation of projected 2035 traffic volumes flowing through the DDI can be viewed at at this link (77MB MP4) or a low-resolution version can be viewed here (17 MB WMV).
Additional Diverging Diamond Interchange links
Driving through a DDI (Video is from the St. Cloud diverging diamond at Hwy 15 and Stearns Co. Rd. 120) (34 MB