SCHEDULE CHANGE: Construction to begin June 15 on Highway 34!
Project information
In 2023, the Minnesota Department of Transportation will be completing a resurfacing project on Highway 34, from Becker County Road 29 to west of Osage, County Road 26/47 (old MN225). During the bridge replacement at the Shell River, Highway 34 will close and thru-traffic will be detoured. From May through October, local traffic should expect daily lane closures, delays and potential access restrictions in the work zone.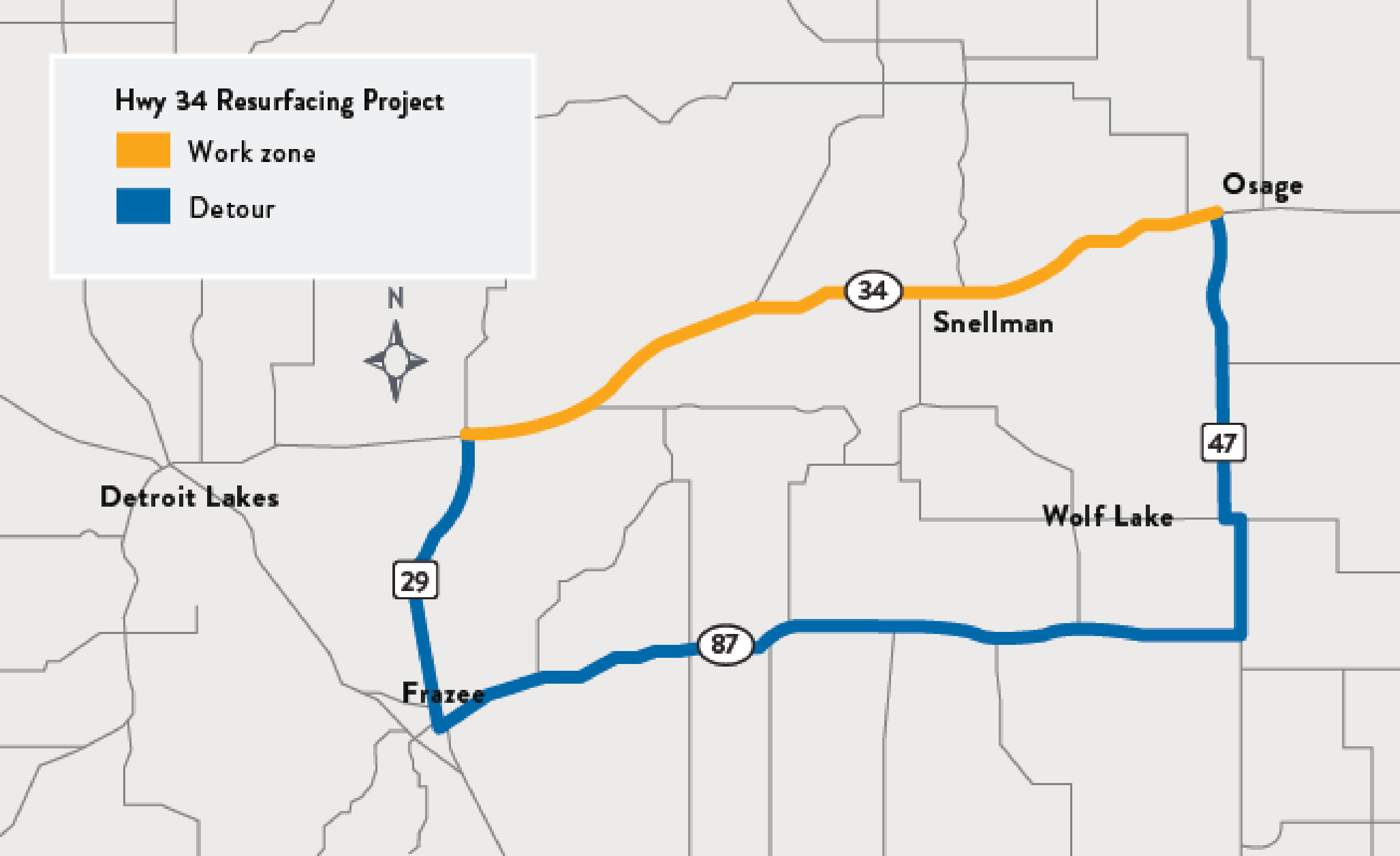 Upcoming traffic impacts
Construction is tentatively scheduled to begin June 15.
On Highway 34, there will be daily lane closures, flaggers and pilot cars directing traffic. Please obey all traffic control.
Driveway/entrance access will be maintained throughout construction. If you have a destination on Highway 34, you can get there, but expect delays.
A thru-traffic detour will be set up during the project. If you don't have a destination on Highway 34, it is recommended to use the detour on CR 29, Highway 87 and CR 47, as work zone delays are expected on Highway 34.

From one end of the project to the other, the detour could add 20 extra miles to your drive. Please plan accordingly.
During the bridge replacement at the Shell River (tentatively scheduled in August), Highway 34 will be impassable at the bridge site for 4-5 weeks. Local traffic will need to find an alternate route around the bridge or take the detour.
Local traffic
Only those who have a destination within the work zone (home or business) should use Highway 34 during construction.
Highway 34/north/south residents: If you live on Highway 34, or live north or south of Highway 34 and you need to access Highway 34 to get to your road, you can still do so. Just be aware there will be delays, flaggers and periodic stops in the areas where crews are working. It is advised to use an alternate route or the detour if you can.

Portions of Highway 34 will be impassable at times during bridge and culvert replacements.

Driveway access for residences and businesses along Highway 34 will be maintained at all times. Please anticipate some temporary/daily restrictions in the areas where crews are working.
Construction staging
Toad Lake is located approximately at the center of the project. The work is currently planned to begin in the areas west of Toad Lake.
Crews will start by replacing entrance pipes and centerline culverts.
Shell River bridge/box culvert replacement tentatively scheduled for August
All schedules and work plans are subject to change at any time based on weather, contractor schedules or other unforeseen circumstances or issues.
Sign up for project email updates to get progress updates during construction.